Space Requirements
The exhibit consists of 17 information panels:
10 panels are 27" wide x 28" tall
3 panels are 28" wide x 44" tall
intro panel is 44" wide x 28" tall
title panel is 12" x 30"
1 supporting panel is 21 3/4 x 21 3/4 square
TRACES promo panel is 24" x 17"
In addition there are several Spanish translation panels:
the largest of these is 16" x 23"
Panels have grommeted holes and may be hung on walls with screws or nails,
or strung with fishing line and hung from ceilings.
Some hosts have chosen to display the panels on easels or tripods as well.
introduction
27.5" wide x 44" tall

background
27.5" wide x 44" tall

map of camps
27.5" wide x 44" tall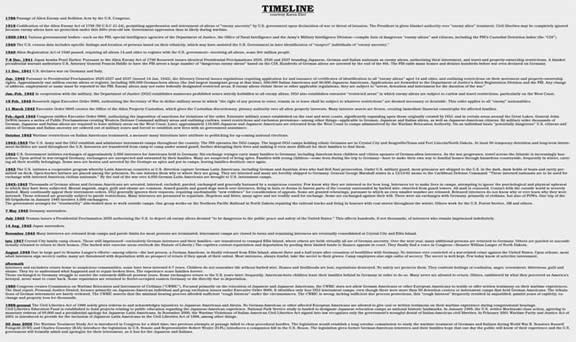 timeline
45" wide x 27.5" tall
Physical items (inventory) arrangements may vary depending on space available.
Samples of Exhibit Prop Displays
St. Paul | Crystal City | Uvalde for other ideas, click here