German War Brides
Introduction
They came to "Amerika" by the thousands, from a country we had just defeated in a brutal war and that laid in ruins. They were foreigners and recent "enemies"--and yet, the German war brides who married Midwest soldiers and arrived in the American Heartland spoke a familiar tongue, and soon fit right in... Their stories say much about Germany during the Nazi dictatorship, about the war to which fascism gave rise, and about the lives these hundreds of young German women made in the Midwest as returned-soldiers' wives after the guns of war had been lowered and the bombs stopped falling...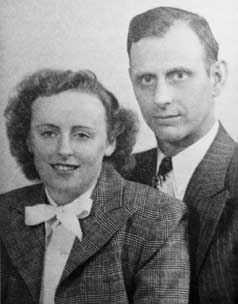 Anneliese Solch and Kenny Woodstroms' wedding portrait, 1947

Anneliese Solch Woodstrom
Anneliese Solch was born in 1926 and grew up in a small Bavarian town in rural Germany. She saw the rise of Hitler and WWII through youthful eyes. She was 19 years old when Germany surrendered in May 1945. In 1947, Annelee came to the United States to become the bride of a Kenny Woodstrom, a Minnesota GI who had befriended her family immediately after the war ended. Despite initially encountering anti-German sentiment in her new "home" Anneliese (now "Annelee") raised a family and later taught English and other subjects at Red River Valley high schools.She has lived the last 60 years in a small town in Northwest Minnesota, and now speaks widely as a published author and witness to the effects of war.
Annelee has written two books about her life experience: War Child (2003), is an award-winning book about growing up in Hitler's Germany. It has recently been reprinted. Empty Chairs (2007) is about her 60 years in the U.S., with myriad references to the Germany of her youth. In both tomes, she explores the intimate ways in which war affects individuals as well as families on both sides of a conflict, and war's indelible consequences for all those whose lives it touches.
Midwest Airmen who served the Berlin Airlift -- and found German wives in the process
by David Harrisville
| Berlin Airlift |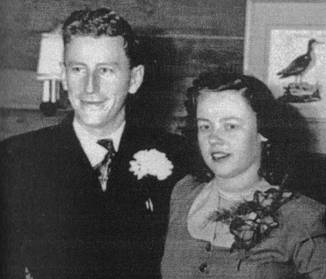 Forrest E. Ott was born in Wergeland Township, Minnesota, in 1921. Like so many Midwesterners, he grew up on a farm. His ancestors on his father's side were of German origin, which gave him an early affinity for the German people. After majoring in math and physics in college, Forrest became a pilot in the Army Air Corps Reserve. He was activated in 1943, when the U.S. was already deeply involved in the war, and entered cadet flying school, where he would learn the skills of a military pilot. Following the war, Forrest became an air traffic controller, from 1948 working in Berlin, just before the Airlift. When the operation began, Forrest remained in this post, directing planes in and out of Templehof Air Base. In addition to this indispensable work, Forrest piloted 110 missions himself during his time off duty. He described conditions in Berlin at the time, noting that German civilians had only two hours of electricity per day during the 1948-9 winter, and would barter cigarettes for food on the black market. He himself would marry a German woman whom he met during his time in the Airlift, who was a cashier at Templehof. Once the operation ended and he was transferred back to the States, Forrest returned to ask her hand, and she emigrated from Germany in 1951, to live with him in Texas.[ii]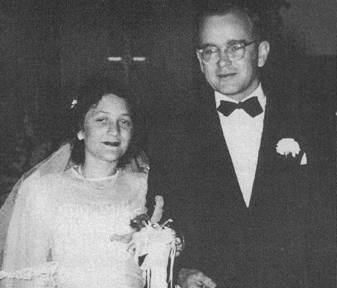 William Michaels was an Ohio native, born on March 21, 1922. He lived in the city and was drafted into duty in 1942. Stationed in England with the Eighth Air Force during the war, he acted as Flight Chief in Newburgh, New York after the war's end. Unlike others who were simply called up by the Army to participate in the Berlin Airlift, William volunteered. During the Airlift, William was a Flight Engineer on a C-54. He found it strange, having been with the organization which demolished many German cities during the war, to be doing just the opposite, but he soon made German friends. He flew on a 12- 24- schedule, making trips to Berlin for 12 hours, and then enjoying time off duty for the next 24. During his time in Celle, he met Anne, a native German, in a café, and a promising relationship began. She accepted his proposal of marriage, and after William was transferred back to the States in 1949, Anne came to live with him in Illinois.[iii]

[i] Wolfgang Huschke, The Candy Bombers: The Berlin Airlift 1948/49: A History of the People and Planes (Berlin: Metropol Verlag, 1999), 214.
[ii] Joseph Werner, Berlin Airlift: Brides and Grooms Created. (NY: Water Edge Publishing Co.,1998.), 137-145.
[iii] Werner, 83-90.