A Life for Democracy
Hubertus Prinz zu Löwenstein was a writer, politician, adventurer, organization-founder, lecturer for uncountable audiences, a husband and father—but most of all, he was a democrat with an indelible belief in diplomacy.
Family Background
Hubertus Prinz zu Löwenstein-Wertheim-Freudenberg was born on 14 October 1906, in Schönwörth, Germany. His parents divorced when he was four years old; he, his two brothers and two sisters stayed with their father in Germany and later moved to Austria, while their mother returned to her native London. The prince never had a real relationship with his mother.
A retired member of the Bavarian Cavalry, Hubertus' father authored novels in order to finance his accustomed lifestyle, but his passion remained the translation of Latin writings. He intended for Hubertus to write novels for a living, too, but unlike his father's, the young prince's stories would contain a political message.
The young Löwenstein's father served as a guiding and formative figure in his life. From him, Hubertus acquired a passion for history and a disposition for perfectionism. The senior aristocrat implanted in Hubertus a "perfectionist complex," as Hubertus later dubbed it in his autobiography. When Löwenstein saw him for the last time in Vienna in 1935, his father told him he disagreed with Hubertus' choice of a political career. He said Hubertus should stay out of politics, since it was not the concern of a gentleman. <![if !supportFootnotes]> [i] <![endif]>
<![if !supportEmptyParas]> <![endif]>
His Family
On 4 April 1929, Hubertus Prince von Löwenstein married Helga Maria Schuylenberg, a Norwegian of Dutch ancestry. On 27 November 1939, he became a father. Hubertus was in the USA when he got a telegram from his wife in Austria that she was pregnant. He and his wife had long awaited this moment. Their daughter, Maria Elisabeth, was born in New York in her father's absence— Hubertus was informed via Telegram from his friend Volkmar Zühlsdorff, that he had a girl. Maria Elisabeth was two months early, possibly on account of the psychological pressure of fleeing the country and starting over in exile with an uncertain future.
The Löwenstein's second daughter, Konstanza Maria, was born in 1941 in Newfoundland, near New York. A few days after her baptism on 29 November 1942, Hubertus left to lecture in Minnesota. (A third daughter, Magarethe Maria, was born on 3 October 1948 in Wertheim, Germany.)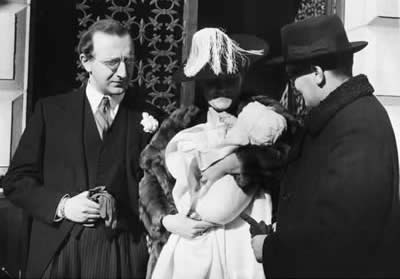 Hubertus (left) and Helga with their daughter, Maria Elisabeth in New York, 1940.
Maria Elisabeth was probably the first German princess ever born in the US (Bundesarchiv)
Life as a Student
Hubertus was born in 1906. At that time, today's Germany was known as a Kaiserreich—an imperial empire, whose states, such as Hessen or Bavaria, were then considered to be kingdoms. The new governments after the Congress of Vienna in 1815, following Napoleon Bonaparte's defeat, were revolutionarily democratic, owing to the fact that the German people, who made great sacrifices in the movement against Napoleon, had crusaded for their rights once the French Emperor was defeated. In the new political climate, freely elected representatives of the people mixed with noblemen in the parliament and were nearly as powerful as kings, who officially remained the heads of the government.
In 1914, at the age of eight, Hubertus experienced the beginning of the First World War in Austria. His father and oldest brother went to fight for the Bavarian army. Hubertus described his childhood as a happy one, since they had enough food,
[ii]
but during the war he experienced hunger for the first time. Their father sent food packages from Hungary, but when he was transferred to the western front the family was close to starving.
In 1924 Hubertus earned his Matura in Klagenfurth. The same year he joined the University of Munich to study law. The following year he transferred to Hamburg where he met Professor Albrecht Mendelson Bartholdy, who became his doctor father. He spent the summer term of 1926 in Geneva, where he met Stefan George, author of The Anti-Christ and close friend of the brothers Stauffenberg. George would be a major influence on Löwenstein's thinking. In the winter term, Hubertus transferred again to the University of Berlin where he took his final state exam in November 1928.
Hubertus was 12 years old when the First World War ended. The new German state, the Weimar Republic, was a democratic federal republic with the same states as the empire, though the noblemen were no longer part of the government. Friedrich Ebert became the first Reichspraesident of this new democracy. The prince saw this republic as one of the most decent states in history and its constitution as exemplary. [iii]
This democracy believed strongly in the power and rights of every man, which weakened it. People were not satisfied with the regulations of the Versailles contract, the aftermath of the war and were not used to so much freedom. The parliament was weak, since the number of represented parties was overwhelming, and the outcome was that ballots did not lead to any definitive result. As a consequence, the parliament was suspended and re-elected in very short periods. Most youngsters that experienced the First World War and the Weimar Republic were torn away by her. They felt unfairly treated and to some extent sought revenge. Most of them did not know what kind of government they wanted, but they knew they did not want what they had. Very few of them believed in democracy as it was, and either joined the ranks of the communists or adhered to the political right wing with its strong nationalistic tendencies.
The Beginning of a Political Life
Löwenstein was to remain in the minority of youngsters who believed in the Weimar Republic. His doctoral thesis, which he started in 1928, dealt with a comparison of the Weimar constitution and Italian Fascism. The title was The Constitution of Future Germany.
<![if !supportFootnotes]> [iv] <![endif]>
In 1929, he stayed in Florence to continue his research into the development of Italian constitutional law from the 1800's on. In July of the following year, his essay Das Dritte Reich (The Third Reich) was published in the popular Vossische Zeitung (the contemporary "New York Times" of Germany). In it, he drew a comparison between Fascism and Nazism, based on his research. This article made him famous overnight. He argued that Fascism would not destroy Europe, but that Nazism in power would most likely lead to war. Göbbels's newspaper, Der Angriff, ("The Attack") and the Völkische Beobachter ("The People's Observer"—the newspaper of the Nazi party) reacted strongly. Even some of Löwensteins' relatives wrote upset letters. In their eyes he became the Red Prince,
<![if !supportFootnotes]> [v] <![endif]>
just as Göbbels had named him.
<![if !supportFootnotes]> [vi] <![endif]>
<![if !supportEmptyParas]> The year 1930 was the point of no return for Hubertus Prinz zu Löwenstein. <![if !supportFootnotes]> [vii] <![endif]> On 16 October he joined the Reichsbanner Schwarz-Rot-Gold ("Black, Red, Gold Banner of the Realm"—named for the German flag) in Berlin. This organisation was above party lines, even though most members belonged to the SPD (Social Democratic Party). Their aim was to protect the Weimar Republic. That this was indeed a point of no return, as Löwenstein puts it in his autobiography, becomes clearer with Zühlsdorff's additional information that Löwenstein was the only nobleman in this organisation. [viii] <![endif]>
The same year, he founded the republican youth movement for that organisation. It was called Vorguards Schwarz-Rot-Gold. This and the writing of further articles for the Vossische Zeitung was the real beginning of his political carrier. On 2 February 1931 he became a doctor juris, the first in the family. His thesis developed the principal today known as the right to resistance. <![if !supportFootnotes]> [ix] <![endif]>
<![if !supportEmptyParas]> <![endif]>
Political Activism Before Hitler
In 1931, Hubertus gave various political speeches all over Germany. The Weimar Republic was reaching the end of its lifetime, as the frequency of re-elections increased and the political climate became more heated. Often followers of the left and the right fought in the streets. Political meetings were interrupted by members of the opponent parties and ended in fighting. Löwenstein himself became an eyewitness of such so-called Saalschlachten.
In July 1932 began Hubertus' first extraordinary political adventure. The trigger was von Papen's coup. At the young age of 26, Hubertus encouraged the Reichsbanner and the Social Democratic government of Prussia to impose emergency rule. He planned on a staging a counter-coup with the support of the southern German governments. He flew to Munich and Stuttgart to negotiate with the Bavarian Interior Minister Carl Stützel, Premier Heinrich Held and the Interior Minister of Hessen Wilhelm Leuscher, who offered Darmstadt as the capitol in Exile. This city was, according to the Versailles contract, a demilitarized zone, and so untouchable for the Reichswehr. Löwenstein did not hold public office, but he was legitimized through the writing of the State Secretary of Prussia Wilhelm Abegg.
Back in Prussia, Interior minister Karl Severing and Premier Otto Braun rejected the coup offer because they planned to condemn Papen's coup as a breach of law, and didn't wish to appear hypocritical. They desired to keep the upcoming elections safe and await the judgement of the Reichscourt after them. It was obvious to Löwenstein that this decision would do nothing to avert Hitler's rise. <![if !supportFootnotes]> [x] <![endif]>
After this disappointment, Hubertus zu Löwenstein continued his speeches. In October that year he was arrested in Austria. After a walk with the Austrian democrat Julius Deutsch he was accused of interfering in Austrian state affairs and strongly recommended to leave Austria the next day. Since his arrest would be in the news all over Europe, he was able to stay and continue his various speeches.
Rough Times Following Hitler's Election
In March 1933 Hubertus travelled to Tirol for another political tour. While he was gone, his house was searched for a second time by the Gestapo and SA. Upon returning, he went to the police headquarters, as he was requested. Captain Ranffel issued him and his wife an exit permit and warned Löwenstein to leave within the next weeks, since the times were supposedly getting rougher for people like him. He and his wife, as well as Zühlsdorff, took the good advice of the loyal police officer, as Zühlsdorff calls him in his book. <![if !supportFootnotes]> [xi] <![endif]> The couple fled to Austria shortly afterwards.
Löwenstein was in the lucky position to be fairly well known in other European countries and to have connections to their newspapers. Other active democratic or communist men and women were facing Nazi dungeons in those days. Right after Hitler came into power the Nazis opened these "Folterkeller" prisons, police buildings or other places were political dissidents were tortured physically as well as psychologically. Many did not survive the injuries, were killed, or were forced to commit suicide. Survivors speak about slippery floors, impossible to walk on, because of all the blood. Fortunately, Hubertus escaped this fate.
Austria then was still under a democratic government, but that seemed to be in danger in 1933. After Löwenstein gave a political speech in Brixlegg about the incidents in Germany, Nazis who were present at this event informed the German Nazis via telephone about the content of his speech. The response was a 5,000 Reichsmark reward, dead or alive.
Another young man met secretly with Löwenstein to inform him with reliable information that a regional Nazi group had made plans to kidnap him and deliver him to the Gestapo in Bavaria. This young man also informed the Landeshauptmann (comparable to a Premier) who sent the Austrian army to protect Löwenstein and his family, since the Red Prince was too famous and the kidnapping too dangerous for Austrian foreign policy.
Helga Löwenstein, Hubertus' wife, was famous, too. An article was written about her in The Times for 2 June 1933 entitled, "Princess Fires Shot at Austrian Nazis." <![if !supportFootnotes]> [xii] <![endif]> She was defending the black-red-golden pennant, which they had on their car, against a young man on a bike who tried to steal it. She warned him to drop it or she would shot. As he drove on she fired and fortunately missed him. <![if !supportFootnotes]> [xiii] <![endif]>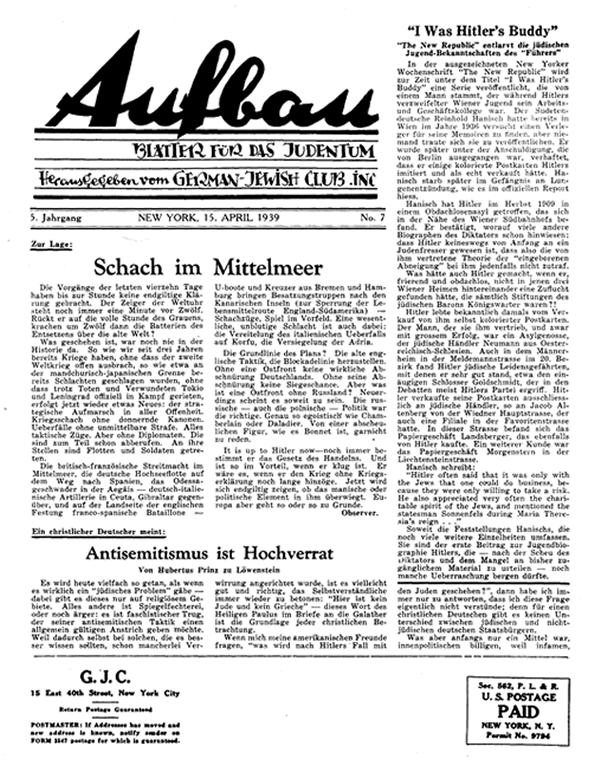 one of Hubertus' articles in the Jewish Aufbau newspaper, 1939 (bottom); the title reads "Anti-semitism is High Treason"
On 3 November 1934 Löwenstein was informed through the Reichsanzieger (a German newspaper) that he was expatriated. The reasons given were that the signed the Saar Manifesto and published an anti-German book. Through connections, he obtained a Czech passport, just like many other denaturalized people in exile. He was fighting strongly for the Saar to become independent and not be conquered by Germany. Löwenstein went to Saarbrücken with his brother to fight for democracy. By the help of a loyal portiere he escaped an assassin. He even went to England to advise the English king to show his power in the Saarland by keeping his troops there, which was better to Löwenstein than for this region to become part of the Nazi Reich. In a referendum, the Saarland decided for accession to Germany, another setback for the democratic powers in Exile.
Life on the Tramp
In 1934 Hubertus travelled to the USA from Geneva, where he had gone after Saarbrücken. The purpose of this journey was to give political speeches and to build connections. His arrival was welcomed by many reporters asking him about Germany. But what was even more important to him was the welcome of the Black-red-golden flag of a Reichsbanner group. Their meetings were similar to the ones in Germany in former times, which made him feel at home.
Back in Europe in 1935 he had a private audience with Pope Pius XII in Rome, whom he warned about the Nazi Reich. After that he went back to Austria, Prague and London. In 1936 Löwenstein founded the German Academy of Arts and Sciences in Exile. Thomas Mann and Sigmund Freud were his co- presidents. It may be interesting to note that Freud once told him his analysis of Hitler. Freud never published it, because he did not have Hitler's permission, so Löwenstein also never did. Albert Einstein rejected an offer to become the president, since his dogma was to have nothing to do with anything German anymore. The organisation's aim was to support authors in their writing and to function as a German government in Exile. It gave a voice to the community of intellectuals in exile all over the world. Their message may be read as "Hitler is not Germany. <![if !supportFootnotes]> [xiv] <![endif]> During all his years in exile he fought for a non-violent removal of Hitler by the German people, the prevention of the displacement of National Socialism by Stalinism, the prevention of the splitting of Germany, and the integration of a democratic Germany in a united Europe. <![if !supportFootnotes]> [xv] <![endif]>
In January 1936 Löwenstein had an extraordinary meeting. He met in a café in Paris with an old friend, who used to be a Vortrupp leader. He was now working for Göbbels' propaganda ministry. He told Löwenstein that Göbbels wanted to declare about 1,000 monks and friars homosexual. Löwenstein immediately informed the Pope as well as the American Press. On 27 May the newspapers had to confess that what Löwenstein had warned about had become reality. Löwenstein was at that time back in the USA and his wife had to give up their home in Austria. The summer of 1936 he spent in Hollywood, becoming good friends with Charlie Chaplin and Fredric March. This was his unhappiest time in Exile, for even though he enjoyed hosting these people, he still did not feel that his future was in the film business, but rather in politically active teaching.
In May 1937 he corresponded by mail with Winston Churchill, asking him for a centre for constructive ideas outside of Germany in England. Churchill turned down his request.
Hubertus witnessed the war in Spain in Barcelona in 1937 and then went to London. In September of that year he began his carrier as a Carnegie professor for Dr. Butler and the Endowment for International Peace in New York. His subjects were history and constitutional law. In December he went back to Italy to meet his wife and Volkmar Zühlsdorff, and they returned to the USA together in January 1938.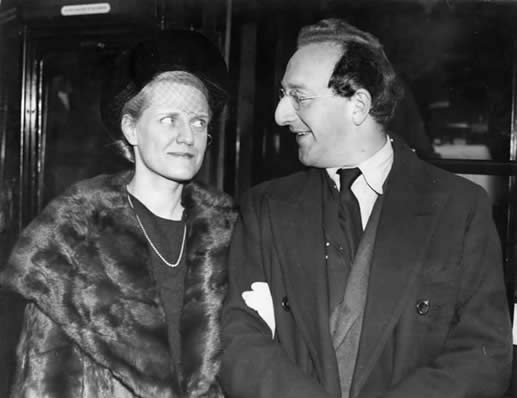 Helga and Hubertus at a London train station, as Hubertus
leaves for his American university tour, 1937 (Bundesarchiv)
After his lectures in the spring he left for Paris in March and came back in August. On the 22nd that month he and a friend went on a trip together. Before getting on the boat he bought a newspaper, but didn't read it until their return in the evening. He saw from the headline that the neutrality and non-aggression treaty between Germany and the Russia had been declared invalid. He remembered his father predicting that this would be the beginning of the World War, and realized that this prediction had in fact come true.
After his lectures that year in 1939 he left again for Europe, even though friends warned him not to, but his desire to be near Germany was stronger than any rational sense. His wife, who was with him since Christmas, left for Paris, while he and his friend Zühlsdorff headed for London. He had difficulties in England, since his passport was Czechoslovakian, and when he found out that his wife was pregnant, he immediately went to Paris. The couple wanted to leave Paris on a boat on the 9th of November, but both Löwenstein and Zühlsdorff were arrested by the French police. The new ship they were booked on departed the 19th that month. They would later find out that their first ship had been sunk without any survivors. All the way to Ireland Hubertus was terrified of the possibility of a Nazi ship stopping and searching their vessel, but they made the crossing without incident. Safely back in the USA, Hubertus also found out about French alien enemy camps, which imprisoned German immigrants.
The following two years he spent travelling the USA as a Carnegie professor.
It was the greatest migration in Western musical history to one concentrated area, in one period, for one reason. These four (Otto Klemperer, Prinz Hubertus von Lowenstein, Arnold Schoenberg and Ernst Toch) may never have socialized in Europe, but that all changed in the intimate and isolated emigre musical world of Los Angeles. (Photo: Yale University Press)

A Perfect Storm: Hitler, Hollywood and the Great Emigre Musicians
MPR
In January 1941, he decided to settle down in Newfoundland, near New York, to make a home for their daughter. He started teaching at Rudges University near Newfoundland. After the Pearl Harbour attack on 7 December 1941 Hubertus Prince zu Löwenstein started teaching at different universities again.
He arrived in the beginning of October 1942 in St. Paul, Minnesota. This is the only university he discusses in his autobiography. This joyful time and especially his friendship with John W. Larson, which he would treasure for the rest of his life, made this university stay special to him.
In his own words, he recalled, "A few days after the christening I left for Hamline University, in St. Paul, Minnesota, where I was to offer a course of twelve lectures on Europe, Past and present. But during the six weeks at that time-honoured and very good school, I finally held no less than forty scheduled lectures, not counting a lot of unscheduled ones, informal meetings, seminars, and so forth. The work load of a college teacher in America is far heavier than in Europe- and when one came from Europe and was supposed to know almost everything, it was still heavier.'
'The battle of Stalingrad had just started when I came to Hamline. A world historic decision will have been reached by the time I leave, I said in my first lecture." <![if !supportFootnotes]> [xvi]
The "Prinz" only visited for some six weeks, yet this exotic guest's sojourn at Hamline University would leave a decades-long, indelible wake. By coincidence a guest lecturer at the same institution where Austrian-exile and composer Ernst Krenek found an adopted home, Hubertus used his time in exile both to educate his "hosts" about events taking place in Nazi-occupied Germany, but also to inform his own evolving worldview. He would use the new perspectives gained while safely out of Hitler's reach, in the heart of the American Heartland, to guide him in post-war Germany, as he and like-minded colleagues struggled to form a new nation out of the ruins of Nazi rule.
In 1943 he discovered that through writing short stories for newspapers he had a chance to reach people who skip the political pages of a newspaper. He tried to hide the political message behind funny and interesting plots. They dealt with Germany and the Nazis and were actually appreciated by the readers.
The Prinz wrote of his next visit, "In May 1943 I returned to Hamline University to receive the honorary degree of Doctor of letters. In replying to the citation, I said that I looked upon this honour as intended also for those German universities from whom in the years of freedom I had received my academic training…straight from the academic celebration I went on a canoe trip on the wild and beautiful St. Croix River, together with Hans Christian Larson
.

<![if !supportFootnotes]> [xvii] <![endif]>

He describes that experience as reminiscent of his childhood and his dreams about journeys through Germany and Italy after the war. During the trip they both were able, for a time, to forget about the war.