Newletters
fall 2009 winter 2009 spring 2010 summer 2010 fall 2010 winter 2010
spring 2011
Transformation
The only "constant" in Life is change: that Natural Law applies to the Fate of the Burr Oak Center, just as much as it does to all other things in our crazy-yet-endearing cosmos.
After two years of a parade of residents, interns, guests and visitors passing through its doors, TRACES Executive Director and the TRACES Board of Director members agreed to close the Burr Oak Center. The decision did not come easily, nor was it made lightly. Still, all involved felt it the right action to take after a tumultuous winter of unexpected and indelibly diminishing events. All took comfort knowing that in a short amount of time, much learning, laughing and loving took place—exactly the original mission that motivated so much work, in such short time.
Once the decision had been reached, the larger task of actually dissolving the 1.5-acre, two-house property presented a more daunting duty. For Michael, personally, one of the hardest "separations" was that of giving the project's eight hens and one very-cocky rooster to Burr Oak volunteer Brock Hussey and his two children [photos of them volunteering at the Center are below, in the summer 2010 issue of this newletter]. On Easter weekend Michael and the Center's last intern, Willliam Allen of New Jersey, loaded the fowl into an early-20th-century wooden chicken crate that Michael's family had used on its homeplace in Northcentral Iowa, at Ashlawn Farm. On the road to Central Missouri he stopped along the way, asked strangers to help lift the lot out of the packed pickup and set them out for watering. It was a sight that drew lots of looks and smiles! Once at Shameless Acres, however, the birds happily settled into their new home in the Ozarks.
Parked at the Mound City/Missouri rest stop along Interstate 29, the grateful hens and cautious cock savored some cool water on a warm spring day. Despite the stress of being caged some 12 hours and being shipped hundreds of kilometers across the American Heartland, those loyal hens laid about half a dozen eggs whilst in the clink: "Those lil' darlin's!"
As of this writing, TRACES already has sold the "barn"—the older of the two houses—and the sale of Big Blue is pending. Happily, while the original resident-staff members are moving on to New Lives elsewhere, current residents Chris and Holly Munsen continue the Burr Oak vision: although he farms some 2,000 acres nearby with her father per traditional "industrial ag" methods, the young couple is experimenting with raising organic sweet corn and other fruits or vegetables on the property. Holly likes to sit with five-month-old Sophira on the back deck at Big Blue and watch the garden grow.
And that is jus' as it should be…
photo to be added
caption to be added
Chicago Tribune article about closing the Burr Oak Center
Big Cold, Deep White, Much Movement -
Winter brought a massive, early-season snow storm, and with it Larry's decision to move to Mapleton. After having worked hard to help establish the Burr Oak Center, he will enjoy a quieter, more leisurely life. The Board of Directors, which met in early December [see minutes], thanked Larry for his lasting contribution; along with director Michael, they wish him a healthy, rewarding future, no matter where it takes him or what it brings him. At the same time that Larry began a new chapter in his life, Board Member Whitney Davis of Grinnell also left the project. We will miss her contagious smiles, her lively eyes and piercing insights. She, like Larry, enriched our work.
Accompanied by repeat-volunteer Brock Hussey and his two children, in mid-December Michael traveled to Costa Rica for two weeks. Among other things, the little troupe planned to visit the permaculture institute at Rancho Mastatal Environmental Learning Center outside San Jose near Santiago de Puriscal, the Monteverde Institute in Puntarenas province, and the Universidad EARTH at Guácimo, Limón. They also spent time interviewing change agents in Santa Elena/Monteverde, Nuevo Arenal and in the capital. It was a rich, much-appreciated opportunity to learn about organic projects in other settings and cultures—not to mention a chance to bask in the tropical natural splendor of Central America. On behalf of TRACES, Michael also spoke at the San Jose Friends ("Quaker") Meeting about Quaker responses to Nazism, as well as those German-American Costa Ricans interned by the U.S. Government in Camp Crystal City/Texas and elsewhere during the Second World War.
While they were gone, Shonel Kizer and Wayne Hyde from the University of Kansas in Lawrence/Kansas stayed with Lakota and the other four-legged as well as feathered residents of the Burr Oak Center, to pursue their own studies. They especially enjoyed working with the animals, and proved invaluable in practicing conflict mediation, community building and website editing.
In January Michael spent 3 weeks in Germany, staying at Kommune Buchhagen and working with Hom to explore taking the BUS-eum to Europe in spring 2011. They worked with great excitement, given the impressive list of initial partners, funders or supporters already committed to the quickly-growing project: Deutsches Historisches Museum, Alliierten Museum and Berlin-Karlshorst Museum (all three located in Berlin), as well as the Volksbund Deutsche Kriegsgräberfürsorge, Checkpoint Charlie and Konrad Adenauer Stiftungen, Quaeker Hilfe, German-American Institutes and other organizations. If this project succeeds, it will bring attention to the Burr Oak Center for Durable Culture, too. In February, Michael and Brock attended a conference at the University of Northern Iowa on international education, after which Michael launched a month of speaking appearances in Iowa, Minnesota and Missouri.
Hunkering Down, Taking Stock
In late September Caroline Leone came as a three-month intern from Florida. A recent graduate keen to learn how to live a more organic life, she happily settled into working with the animals, learning about end-of-summer gardening and food preservation, as well as the often-curious, always-fluid dynamics of group living.
[see End-of-Season Garden Tour photo series below]
The night she departed for the airport to fly back to the Sunshine State, she left a lovely card on the dining room table for all to read: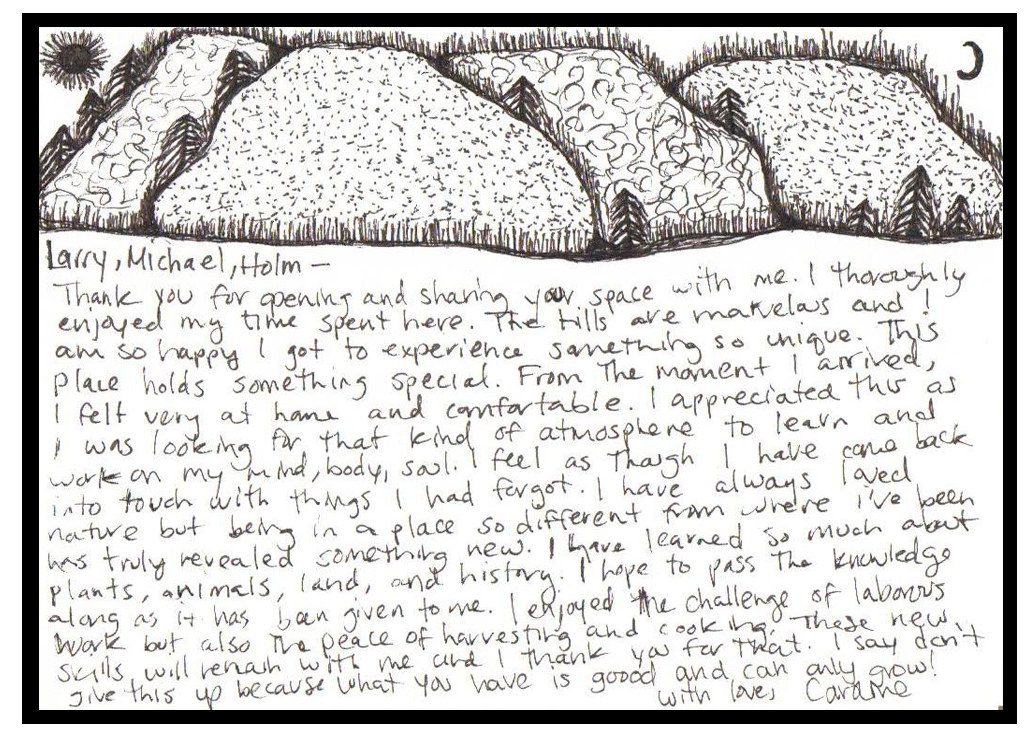 Caroline's happy presence was countered by the unhappy act of "concluding" the summer's small-livestock projects. We could not rationalize keeping our three free-range hogs—for example—over the winter. The morning Caroline, Larry and Michael struggled to load them into the TRACES museum mini-van, however, it took over three-quarters of an hour to coax, cajole, bully and, finally, shoulder them into the cramped Ford Windstar. Ironically, when we arrived at Tiefenthaler's Quality Meats processing plant in Holstein/Iowa, the three porkers wouldn't get out! We had to poke, prod, plead—then, when that didn't work, literally pull them out, kickin' an' squealin'! At least their Hog Heaven proved to be a worthy address: Jimi D's bold chef, Brandon, was happy to get several hundred pounds of the most-chemical-free pork raised not far from Omaha to put in his experimental dishes.
It was a sober day, though, when we decided to take our three "unintentional" roosters along with the ten assorted ducks we'd raised over the summer, to Duncan's Feed and Processing in Missouri Valley. We intended to fatten and then butcher the ducks all summer, but the Barred Rocks—purchased from Bomgaars as hens—turned out to be three* of the most magnificent-albeit-undesired-by-the-neighbors creatures in all of Turin. It truly pained us to load these three Pretty Boys with the comical ducks and send them off to be guillotined; doing so didn't leave us feeling good at all, but we did so out of a self-imposed sense of obligation to those living nearby. Again, we lamented that most Americans feel so distant from the sources of food that sustain us all, that the naturally occurring sounds of animals—like crowing—are "not acceptable".
[*We judged—falsely—the fourth Barred Rock to be a hen as we isolated the other black-and-white "transgressors" to serve out undeserved death sentences. When "she", too, grew a comb and sported evermore-obvious "cocky" behavior, we decided to keep the remaining Barred brother as a "survivor witness". As of this writing, every morning and on an occasional afternoon, Barry announces his proud place as the sole male in our flock. We hope, for his and ours, that this reprieve might last…]
Western Iowa is the Gateway to the West, complete with armies of flying and crawling bugs not found in the same overwhelming quantities in most of the Midwest, points east. That's fine for for the few entomologists among us, but for the rest of us the droves of winged, biting, scratching, blinding bugs was no fun. So, at the end of the summer, Hom and our carpenter friend Ted built two porches, one under the deck on the west side of Big Blue, the other where there had been one, on the southwest corner of the White House, which, a short time later, Larry and Caroline transformed into a "Red Barn" that would house the goats over the impending winter. Looks easy, but it was a ton o' work!

Among other subjects, Caroline had studied art before coming to intern for three months at the Burr Oak Center. At the end of her stay, she took a series of artful photos of life in at the Center in late summer. Her images speak volumns!
Just before Caroline returned to Florida, Ariel from New Jersey joined her and Larry for a week to help transfer the remains of the pigs' summer-long-load of droppings and sink a large hole for the long-anticipated pond. We are glad to be able to complete the Crowning Touch of our Master Plan for the Burr Oak campus. By the end of the season, the place looked GREAT!
First Long-Term Interns Arrive!
The arrival of summer heralded not only new warmth and growth, but our first bona fide interns. Kira O'Bradovich came from Omaha to spend three months, splitting her full-time internship half-time between the Burr Oak project and TRACES. "Sparkplug" (as we called her, given her compact size and indelible ability to ignite an entire group of people into action—or at least a happy mood) enjoyed playing with our swiftly growing menagerie of small livestock: over the course of the summer we had 20 broilers, 12 layers (the four Barred Rocks of which proved to be roosters, rather than hens—"oops!"), three free-range pigs, three goats (Nanny, Billy and Kiddo—one can guess their respective genders/ages), three cats, three breeding rabbits (Charlotte and Dorothy*, and their involuntary-suitor Edward), Abigail (the pampered house rabbit that Kira couldn't resist cradling like a big-eared, black-furred baby with massive, snow-shoe feet!) and, of course, Lakota, Larry's 100-pound Belgian Shepherd service dog.
[*Later, closer inspections revealed that "Dorothy" was actually "Don", and that's why s/he wasn't giving birth to baby buns to be raised into adult dinners: Don later became Hasenpfeffer himself… With the four Barred Rock "hens" who metamorphosed into stunning, strutting cocks, we decided Burr Oak struggles with "gender-identity challenges".]
| | | | |
| --- | --- | --- | --- |
| Kira O'Bradovich | | | |
Hom, the German carpenter-woodworker, had returned to Buchhagen for the summer, but his space as our resident European intern quickly fell to Sylvan Francois Patrice Morvan of Nante/France. An engineering student on a months-long tour of the U.S. as part of required "practical studies", Sylvan thrived as the designer and builder of not only our new chicken-scratch yard, but the pig pen, too. The night before he left, Sylvan spent literally a day preparing French cuisine for us to savor, then treated us to an invitation-only showing of a film he helped shoot and act in at his lycée. Later, we gathered around a bon fire to bid our French friend adieu!
Perhaps not surprisingly, interns drew other new faces to the Burr Oak Center. Kira's friends Sarah and Charles, for example, came from Omaha on more than one weekend to "learn by doing". The tasks they practiced included: laying out a flower garden to border the south side of the drive and to complement the planned nearby fish pond, etc.; helping harvest and can garden produce, as well as small construction projects and the like.
Although Kira had known fellow Omaha-native Rachel and her partner Ben, the latter two came to us on their own right, not as yet another "friend of Sparkplug's". They, too, quickly set into weeding, canning, cooking... We enjoyed having their baby daughter among us, as well. She didn't waste any time in utilizing the Kidz Kornerz we'd installed for Lil' People jus' like her!
Other children visited the Burr Oak Center in summer 2010, too. Brock Hussey brought eight-year-old Cade and five-year-old Aeowynn for a weekend, during which the trio painted a children's play room under the stairs, and Brock helped Larry "hot wire" the goat yard with a solar-powered electric fence, to discourage any Great Escapes.
| | | |
| --- | --- | --- |
| | Other summer building projects included the construction of a screened porch underneath the deck behind Big Blue, as well as a new porch, rooster-topped weather vane, and barn-red paint job for the second house on our campus. Our local carpenter friend Ted Gascoigne also installed two new windows on the west side of Big Blue, allowing for much more light and fresh air, in a house with few openable windows. | |
The below excerpt from the director's journal gives an idea of daily life in the Burr Oak Center's first days of summer 2010:
Wednesday evening at the Burr Oak Center's Big Blue, Turin/Iowa - 2 June 2010
As I sit on the deck behind Big Blue, this barn-like house we are slowly, steadily converting into a home, the darkening Missouri River Valley is quiet save for a soft chorus of wetland frogs, newly nascent crickets and a stray grain truck speeding past this sleepy village at the foot of Lost Hill.
Larry, exhausted from an upteenth day of gardening, poultry nursing, rabbit raising and a long list of other daily tasks, fell into bed about 9 o'clock. Kira, our first summer intern, left for her native Omaha for her Wednesday church-choir practice, and will return late tomorrow morning. Thus, I sit here alone, on this clunky deck overlooking some 23 kilometers (15 miles) of table-top-flat river bottom, stretching to Nebraska's bluffs on the other side of the distant Missouri River.
Like Larry, my nearly-50-year-old body is feelin' the daily grind required to convert this acre-plus piece of Iowa land and the two, previously foreclosed houses on it, into something new and transformative. For my part, I spent a hefty chunk of the late afternoon weeding by hand and hoe the river-valley land around the White House, while Larry continued to spread peat-moss mulch and newspapers on the beige Loess Hill silt that surrounds Big Blue. As I stopped to pick up too many disembodied doll heads, abandoned Christmas candle holders, shards of broken cake-plate glass, ownerless Match Box cars, unidentifible animal-bone bits, burned-out Coke cans and scads of other "artifacts" of a dying industrial culture, my mind focused on other images, from other times...
| | |
| --- | --- |
| | |
Andras, below; Zach, right

During the month or so that that Florida intern Zach Solomon stayed, he helped Larry build an arbor for our new grape plants, as well as expand the herb garden on Big Blue's east side. Zach also helped with chores, and thereby learned about small-livestock care. Only 19 years old, Zach had a great deal to learn at a site such as ours. His biggest project involved building grape arbors.

About the same time, New England-native Andras Sala spent several weeks at Burr Oak, where he painstakingly scythed our extensive grass areas, enabling us to harvest hay for winter goat feed*. He also learned how to lay a paved walkway along the west side of Big Blue.
[*Over the summer we experienced the first in a series of challenging encounters with neighbors—among the most contentious, that our property looked, to them, "unkempt": what they assumed was neglect, however, was our rejection of golf-course-like lawns, instead letting grasses grow until we could harvest them with a scythe. As Andras stood in the middle of our plot, cutting the prairie grasses in deliberate, smooth rhythms, it occurred to us that we were harvesting hay—by hand—as had our farmer neighbors' ancestors for dozens of generations: how ironic, that as a people Americans have "evolved" to the point where our forbearers' practices seem so odd or, worse, threateningly unacceptable. At least a few months later, we discovered that ABC Television had publicized the Grazing Goats Rage, giving some credibility to our own use of Goat Power to keep down weeds and grass: video
| | | |
| --- | --- | --- |
| | | |
If we at the BOC felt absolved in our belief that our techniques were more life-affirming than the norm, it was in large part because—one bright dew-laced summer morning—we noticed the air above our land was full of dragon flies and Monarch butterflies, the ground filled with frogs, while immediately adjacent, over and on the neighbor's close-clipped lawn, there was not an insect nor a frog to be seen. "Yeah, we're doin' somptin right…"]
In late July two special guests came for a weekend: Saint Paul/Minnesota artist and former TRACES board member CeCeile Hartleib, and on-going TRACES volunteer and Burr Oak Center's director's mother, Phyllis Luick. In honor of their visit, we invited our favorite neighbors for coffee—in particular David and Lin Zahrt, who after 30 years of living up Larpenteur Road a mile from Turin, and for many years running the Country Homestead Bed and Breakfast, as well as hosting innumerable Sierra Club and other nature-oriented retreats and workshops, were preparing to leave the Loess Hills for a new life "out West". We also had Turin mayor David Poole and his pleasant wife Sharon join us.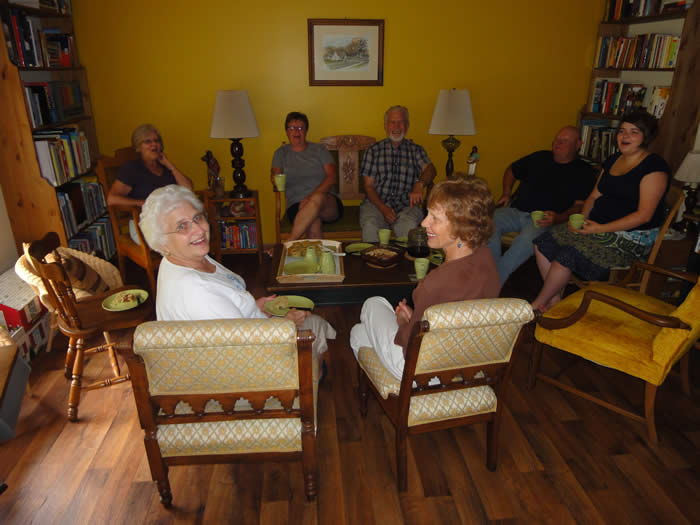 Our mid-summer Community Coffee commemorated several ocassions, all at once. Some of those present included (left to right): Ceile Hartleib, Phyllis Luick, Sharon Poole, David and Lin Zahrt, Dave Poole and Kira O'Bradovich.
CeCeile and Phyllis ventured into the Loess Hills several times, looking for an "ideal scene" for Ceile to paint. Given the oppressive summer heat, at one point she simply stayed "put" and painted Nanny, our head goat. Otherwise, Ceile lovingly recorded her impressions of the Loess Hills in High Summer, with all of the season's nuances and intrigues.
Intern Kira, garden-volunteer Larry and director Michael took Michael's mother, Phyllis, and former TRACES board member and on-going volunteer Ceile to a tasty Saturday-morning breakfast at the City Cafe in Moorhead/Iowa [population 232], before enjoying views from nearby Preparation Canyon State Park's lookout platform and of the Old Danish Church.
Late August found the installation of a new Board of Directors [see minutes], who met in Big Blue's spacious and mercifully cool community room on yet another in the seemingly endless series of mercilessly hot, sticky Missouri River Valley summer daze… New officers assumed their duties, among the first of which was a review of a Business Plan written by Michael and submitted to Monona County officials, as requested.
Up an' Runnin'!
Michael, Larry and Hom arrived at the beginning of March—once again, without heat, running water or other "basic comforts" of contemporary American life. Hom set to work on basic construction projects, but without electricity… Two early visitors, however, forced us to accelerate our ability to entertain. Kane of Kingsley/Iowa came for a few days to gain experience by helping at out Big Blue, especially in renovating the community room. During the time we were focusing all our energies and efforts on renewing the large, walk-out space "downstairs" a second guest arrived: Whitney Davis drove across Iowa from Grinnell to learn about our budding project. Kane and Whitney helped Hom repair and paint; Whitney so enjoyed her time among us, that she accepted our invitation to become a new board member a few months later! She offered us valuable perspectives and insights before she had to leave us again.
One of the first things we did upon opening the house after the winter hiatus was to locate and have installed a corn-burning stove. We immediately fell in love with our clean, quiet, efficient lil' heater, which burned, on average, a bushel of Iowa Gold a day, leaving behind a pound or so of burnt ash. "Hey, we live in IOWA: it's a 'natural'!".
Once the walls weren't so cold any longer, Hom and a local laborer set about covering a wall-less room in Big Blue's basement, thus converting it into our new classroom. Larry's friend Barbara Hansen, an artist from Bellevue/Iowa, came for a week and painted two murals in the room, and Larry furnished the bookshelves with a comprehensive set of library books, plus the room with microscopes, posters and other learning tools. It was convenient, that at about the same time he decided upon a curriculum for those interns wishing to focus on organic plant production or marketing.
A second spring construction project undertaken by Hom consisted of converting a windowless room in the corner of the basement into a well-lit, attractive residence for a family. We were all pleased and grateful to have such a pleasant space for couples or young families to spread out, yet have some privacy.
"Closed for Business"
Repeated calculations reliably projected that heating Big Blue for the winter would have cost over $2,000—and that for only a handful of people—so we "closed shop" for three months, as keepin' the place open and heated won't have been cheap, cost-effective nor environmentally friendly. Larry returned to Bellevue, and Michael trekked to Germany, where he visited the Universitaet Kassel in Witzenhausen's organic-agriculture department). Besides making promising contacts there, he also launched a long-term collaborative relationship with Hom Wehmaier of Kommune Buchhagen.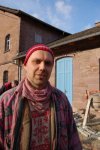 Not only was Hom interested in coming to "Amerika" as an intern to work at the Burr Oak Center and with TRACES, but he proved a strong candidate to help take two mobile TRACES' exhibits to Germany in 2011. Michael also made promising contacts with Oekodorf Auterwitz, a comprehensive ecological project in the Loess Hills of Saxony ("Sachsen"), near Dresden. Among other proposed collaborations, the staff of Auterwitz liked the idea of exchanges of groups between the two regions of Loess Hills, to explore the impact of agricultural and other human activities on the respective regions, and possible antidotes to that impact.
When Hom and Michael flew to Saint Paul in late February, they soon drove to LaCrosse/Wisconsin to attend MOSES' [Midwest Organic and Sustainable Education Service] 21st annual conference. Both men learned a great deal, as well as forged promising contacts for future projects and cooperation. Immediately upon leaving the conference, Michael and Hom drove to Bellevue, where Larry waited with a massive moving van and, the next day, the three set off for Turin, their new (albeit for some, temporary) home in Western Iowa's lovely Loess Hills!
Playing Pioneer on the Iowa Prairie
| | | |
| --- | --- | --- |
| | What did it portend, that TRACES closed on the property that was to become the Burr Oak Center on September 11th? In any event, we did—and the next day, a Saturday, what had been decent weather turned into extended torrents of rain. Intern Amy Kielmeyer helped move the first loads of furniture into the Big Blue, a massive house that had been closed—depending on which neighbor's account one believes—between 1 to 2 years. | |
Big Blue was dauntingly dirty, and lacked any amenities: the electricity couldn't be reconnected until some mysterious Magical Moment (the woman on the utility company's call-in line refused to commit to anything less vague than "sometime later next week"); without juice, the pump couldn't provide water; we had no landline telephone or internet connections; and as the place had been "winterized" only in February 2009 (after a long and reportedly ugly foreclosure process), we assumed the water system would have myriad leaks whenever we could get it turned back on—which it did. INSERT PHOTO OF AMY AND ML-T Amy Kielmeyer helps Burr Oak Center Director Michael Luick-Thrams collect rain water for dish-washing and other purposes from the garage roof.
Initially, then, Amy and director Michael Luick-Thrams lived like true pioneers: we collected water into hastily requisitioned buckets as it dripped off the gutterless garage roof, and ate cold food, often out of cans. For serious business, we had to walk or drive a half-mile up the road to use David and Lin Zahrts' outhouse. ("Showering or bathing?" Yeah, it wouldda been nice!) At least on the 20-minute walk each way, we got to savor some of the most impressive terrain in the Midwest: as we strolled down the road that follows the foot of the Loess Hills we enjoyed the jutting 20-story-tall ridges on one side, and on the other the pool-table-flat floor of the Missouri Valley, covered with seemingly endless cornfields, stretching some 15 miles to the Nebraska border.
Polling the Locals
We didn't waste any time gettin' ta know the neighbors! Besides two public forae—one in Turin/Iowa's town hall on an Indian Summer Sunday afternoon, the second in the Onawa Public Library a week later—we held small, invitational sessions at places like the Turin mayor's home, early-supporter Vicki Weldon's place over a delicious pancake breakfast, and a "shakers and movers" meeting in Onawa.
| | | |
| --- | --- | --- |
| | | |
First Open House
In the month between closing on the property and our first open house, held on October 11th, we worked like fiends to get the place lookin' smart: we painted almost every room—in the process pulling off amazing transformations—and, outside, rid the 1.5-acre "campus" of more than two roll-on containers worth of assorted abandoned garbage. [Director Michael lost 15 pounds in one month—and wondered if instead of an "organic" we should open a "fat farm"?] Future-resident Larry Plein, then still of Bellevue/Iowa, volunteered to help prepare for Burr Oak's first open house—and proved to be an invaluable help!
More than 30 visitors came to view Big Blue, from top to bottom, and pose questions about our plans for a greener future.
| | | |
| --- | --- | --- |
| | | |
Omaha World-Herald article about opening the Burr Oak Center