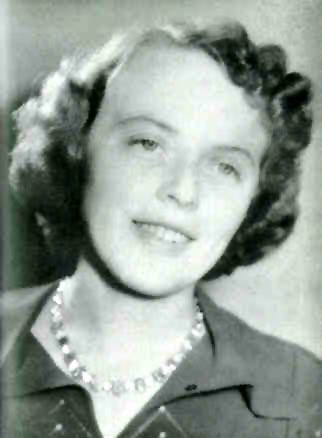 Martha Dodd
1908 - 1990
Introduction
William Dodd took his two adult children with him to Berlin in 1933. His daughter, Martha Eccles Dodd, was born in Ashland, Virginia just as her father became appointed as a professor at the University of Chicago in 1908. Because her father thought physical labor a virtue, she spent her childhood summers at Round Hill, the family's dairy farm in the foothills of Virginia's Blue Ridge Mountains. Discouraged from engaging in pastimes like tennis or "fancy driving," Martha became interested in Russian and German literature. A short, small woman, she resisted her father's attempts to wean her and her brother on a Biblical spiritual diet and instead absorbed herself in Nietzsche's Anti-Christ. As a teenager, Martha left the University of Chicago High School to attend a finishing school in Washington, but soon returned to Chicago. For three and a half years she studied at the University of Chicago, then left to take a job as assistant literary editor for the Chicago Tribune. During that time, she briefly married and attempted to write short stories. With her father's diplomatic appointment in 1933, she and her older brother William E. Jr. accompanied their father to Berlin.
It was in Germany that Martha began to awaken to the importance of contemporary politics. As an assistant literary editor for the Tribune she had read Ella Winter's Red Virtue. While the book reportedly did not sway her sympathies, it sparked a slowly growing social awareness. Before she left Chicago Martha had seen Hitler as a "clown who looked like Charlie Chaplin, burned books, and against all the prophecies of mature and trained people had set up a dictatorship." When she first arrived in Berlin, she even felt mild admiration for the accomplishments of the Nazi revolution. Once in the midst of life in the Third Reich, however, earlier polemics gave way to a more complex understanding of what Hitler meant to the future of Germany and of the world. It was then that she received her political baptism.
Politicized by her life in the Third Reich, Martha wrote of her experiences in 1939 in her book Through Embassy Eyes. After her father's death, she and her brother William E. Jr. edited Ambassador Dodd's Diary: 1933-1938. Twentieth Century-Fox hired her in 1944 to serve as a technical advisor of its film adaptation of Through Embassy Eyes and in 1945 she published her first novel Sowing the Wind, which dealt with the moral degeneration of a German pilot. Although she attempted to write a second novel about contemporary U.S. issues, Dodd's writing efforts failed to impress critics. Marrying millionaire investment broker Alfred Kaufman Stern in June 1938, after the war Martha at least gave the appearance of trying to lead a quiet life as a wife and the mother of one son—but the times and her own passions would not allow such a mainstream existence. After World War II Martha became active in left wing politics, working closely with Vassili Zubilin, the second secretary of the Soviet Embassy in Washington. In 1953 such association, however, attracted the scorching attention of the McCarthy House Un-American Activities Committee, which frightened the Sterns into fleeing to Mexico City, Cuba and in 1957 to Prague, where Stern died in 1986 and his restless wife Martha in 1990.
Although her father was a noted, relatively liberal professor of history and she lived in the second largest city in the United States while attending both the progressive University of Chicago High School and the University itself, Martha Dodd reached the age of 25 literate, yet naive and reactionary. She appreciated art and literature but lacked a genuine understanding of politics, history, economics, philosophy or social issues—and she found her father's academic interests boring and "distressing." Following family dinners (which she generally enjoyed), she would disappear as the dishes were cleared and her father, mother and brother William E. Jr. began discussing current events and religion. While she became acquainted with Robert Morss Lovett, a provocative English professor at the University, and with Carl Sandburg, a close friend of her parents, neither men were able to do more than confront what later even Martha described as narrow, simplistic views of the world. She esteemed both men, yet clung to apathetic parochialism. The seeds of later critical thinking, however, had taken root and she soon would experience against the backdrop of Hitler's Third Reich the greatest challenge of her life to that point.
When Franklin Delano Roosevelt appointed William E. Dodd the United States Ambassador to Germany in early 1933, Martha's parents coaxed her and her brother—who was teaching in Washington, D.C. at the time—to accompany them to Berlin for one year, saying it would broaden their education and advance their careers when they returned. While her brother assumed upon hearing of his father's appointment that the whole family would accompany him, Martha hesitated yet finally agreed to resign from her job as a book reviewer for the Chicago Tribune. After making arrangements for the family's absences, Dodd and his wife Mattie rode the train to Raleigh, North Carolina to say good-bye to his 86-year-old father and pay emotional visits to the family cemetery and to the site where Dodd was born. Making a rendezvous in New York, the Dodds set sail on 5 July aboard the Washington. As they boarded the ship at the dock they encountered Eleanor Roosevelt, who had come to bid adieu to her youngest son Franklin D. Jr., who was headed for a vacation with friends in Europe after having just graduated from high school and before heading to Harvard in the fall. During the eight-day voyage Martha enjoyed dancing, drinking champagne and comparing passports with the "charming, intelligent, gangling boy."
The Dodds arrived in Hamburg after what Martha found to be a generally dull passage. Haying already made a faux pas in posing with what appeared in the press' photos as a Nazi salute upon their departure from New York, Martha later said that upon landing in Germany "We must have presented one of the most amazing spectacles in the history of diplomatic arrivals, though, of course, we were completely unconscious of it at the time." Her father misread a telegram sent by the embassy's counselor George Gordon to say that train tickets to Berlin and plans for the Chevrolet the family had brought with them already had been arranged. Also, while disembarking they forgot to gather the necessary visa papers, as the new ambassador was promptly assailed and distracted by eager journalists.
Martha immediately disliked Counselor Gordon—the ambassador's advisor and second in command—who met them in Hamburg. To Martha he seemed "a gentleman of the most extreme Protokol"—a word she had never before heard—who spoke patronizingly and was "so horrified with our informality that his rage almost...transcended the bounds allowed by his rigid code of behavior." The Dodds had only a modest car without a paid driver and no valets, secretaries or maids; to the counselor the Dodds "looked like simple ordinary human beings, the like of which he had not permitted himself to mingle with for perhaps most of his adult life." Despite his apparent disapproval of this new sort of ambassadorial family, the counselor corrected the bureaucratic oversights, booked the Dodds aboard an ordinary train for Berlin and had Martha's brother drive the family car cross-country. As the counselor sat in one compartment of the train with the ambassador and argued that Dodd now must assume the lifestyle of an important diplomat, the women sat in another filled with gifts of flowers— Martha asleep with her head on the shoulder of her mother, who sat up already fretting over her new duties as the ambassador's wife.
A crowd of reporters (who the counselor tried to keep at bay), German Foreign Office representatives, various diplomats and several U.S. Americans living in Berlin met the Dodds when they arrived in the German capital. Dodd ignored the counselor's efforts and offered the journalists a statement he had prepared as his greetings to the German government and its people as the new U.S. Ambassador to Germany. The Dodds then were rushed away, Martha being put into a car driven by a protocol officer. Driving through the streets of Berlin, the officer named for Martha the local sights, including the Reichstag. "Oh" she exclaimed, "I thought it was burned down! It looks all right to me. Tell me what happened." Having already fielded several outbursts from the excited young woman, the exasperated officer leaned over and responded "S-ssh! Young lady, you must learn to be seen and not heard. You mustn't say so much and ask so many questions. This isn't America and you can't say all the things you think." His sudden reprimand quieted Martha, who was soberly taken aback.
The Dodds spent that first night at the Hotel Esplanade. They had received an offer for a free suite from the Hotel Adlon's manager, yet the embassy staff would not allow them to break the tradition of ambassadors always residing at the Esplanade. The frugal Dodds felt embarrassed over using the elegantly furnished, six-room "royal suite" reserved for them despite the ambassador's earlier request for only three simple bedrooms and a sitting room. Their guilt, however, gave way when they went to dinner. The ambassador practiced his German, joking with the waiters and instigating conversation—behavior the horrified counselor found most inappropriate. That evening the Dodds enjoyed "a good but heavy German dinner"—according to Martha, who drank her first German beer.
Following dinner the Dodds went for an early-evening stroll. Proceeding the length of the Siegesallee, they stopped in front of each of the "rather ugly and pretentious" statues of Germany's past rulers, while the ambassador provided historical background information about each one. After the walk Martha said her father "was in his element here, as he knew German history almost by heart and if he missed out on something, he made a mental note for future study. I am sure this was one of the happiest evenings we spent in Germany. All of us were filled with joy and peace. We liked Germany, and I was enchanted by the kindness and simplicity of the people, as far as I had seen them." Cleared of the ubiquitous rowdy men dressed in Nazi uniforms, the dimly lit streets reminded Martha of a small town back in the United States late at night: "everything was peaceful, romantic, strange, nostalgic. I felt the press had badly maligned the country and I wanted to proclaim the warmth and friendliness of the people, the soft summer night with its fragrance of trees and flowers, the serenity of the streets."
The excitement of the trip to Berlin left Martha in bed for the next few days with a severe cold. The Chicago Tribune's Sigrid Schultz came to visit Martha, but the small, blonde livewire only upset her. Schultz had lived in Germany since before the World War and now felt distraught about life in the Third Reich. She told Martha stories about Nazi brutalities and how the Gestapo frequently interrogated her because of the critical articles she wrote. Being already so impressed by the charm and politeness of German social etiquette, Martha disbelieved Schultz, arguing that she exaggerated and tended toward hysterics. She liked Schultz and wanted information about various Berlin diplomats and journalists, but refused to accept that Hitler's New Germany was fundamentally flawed.
A few days later, Martha met with the well-known reporter, H.R. Knickerbocker over tea. Martha delighted in dancing with the small, slender redhead, but she turned a deaf ear when he began to discuss Germany and the Nazis. Instead she watched the "funny stiff dancing" of the people and listened to their "incomprehensible and guttural tongue." Martha had no interest in courting contradictions to the generally positive view she had of Nazi Germany; she was busy having fun.
Martha had spent some time in France previous to her father's assignment in Germany, so during her first month back in Europe she compared the Germans to the French—very much liking and favoring the former over the latter. She thought the Germans seemed more honest and sincere—"even the merchant class." Unlike the French, according to Martha the Germans didn't attempt to cheat the Dodds because they were foreigners: she claimed, "They weren't thieves, they weren't selfish, they weren't impatient or cold and hard; qualities I began to find stood out in my mind as characteristic of the French." The Dodds joked freely with the Germans, with only the ambassador heeding the warning that their servants were likely spies and their lodgings were probably tapped.
One of the figures who stood out in Martha's early meeting of German officials was Ernst "Putzi" Hanfstaengl, a man of U.S. and Bavarian parentage who had studied at Harvard. Hanfstaengl's mother was a U.S. American who became a naturalized German citizen; she had served as a propagandist for the Kaiser during the World War and in 1923 hid the fugitive renegade, Adolf Hitler. Quentin Reynolds, a correspondent for the Hearst syndicate, arranged for Martha to meet Putzi at a lavish, wild party given for German and foreign friends by an English journalist. Making a late appearance, Putzi arrived "in a sensational manner." He seemed a huge man, both in height and build, standing taller than anyone else present. He had a heavy, strangely shaped face. He spoke in a soft, often whispering voice one moment, then bellowed the next. He had earned a reputation for being the artist among the Nazi echelon, "erratic and interesting, the personal clown and musician to Hitler himself." He dominated most crowds and conversations both by his size and his spirited personality. In contrast to the dour Prussians, Putzi seemed to Martha rather charming and talented. Impressed by the lively Hanfstaengl, Martha was "fascinated and intrigued with my first contact with a Nazi high up in official circles."
Also a tall, humorous man, Quentin Reynolds would prove to be a close friend of Martha's—as well as a ticket for her to see more of Germany and better understand what she saw. Convincing their parents that it would be a good way to learn more about the country, Martha and her brother took Reynolds with them in the Dodds' car on a trip to Austria in August, a little more than a month after the Dodd family had arrived in Germany. Practicing their faulty Deutsch, the three of them talked to people along the way as they asked for directions or ordered food. They drove via Wittenberg to see Luther's bronzed ninety-nine theses nailed to the door and on to Leipzig to see the ambassador's earlier stomping grounds. They found Nazi banners hung long the roads and throughout the towns, with the black menacing Swastika placed within a white circle and set against a blood-red background. Seeing some banners with the word "Jude" printed on them, they recognized anti-Semitic propaganda, but did not pay it much attention.
Driving over the countryside, the townspeople they saw offered their car an enthusiastic "Heil Hitler," thinking that with its official license plate, theirs was the car of an important Nazi family from Berlin. Martha and her travel mates saw many uniformed soldiers singing, shouting heartily and waving flags. Charmed by the hoopla, Martha confessed that "The excitement of the people was contagious, and I 'Heiled' as vigorously as any Nazi." Reynolds and Martha's brother disapproved, but she countered "I was enjoying everything fully and it was difficult for me to restrain my natural sympathy for the Germans. I felt like a child, ebullient and careless, the intoxication of the new regime working like wine in me."
The traveling trio stopped in Nuernberg to spend the night. First finding a pleasant, yet—characteristic of the Dodds—cheap room, they set out to wander around the ancient city. As they left the hotel they saw a crowd gathering in the street and went to explore the commotion. A young woman was being forcefully pushed from a stopped streetcar. Her head shaven and her face "tragic and tortured," she wore a placard on her chest that read "I Have Offered Myself to a Jew." Her fellow German onlookers jeered, insulted and shoved the woman. Upon asking someone in the crowd, Reynolds and Bill Jr. learned the she had been intimate with a Jew; as a gentile such an act was absolutely verboten. Martha wanted to follow the crowd, but her disgusted companions pulled her away with them. Reynolds became so upset that he went off and got drunk on red champagne—soon joined by the other two.
After what they had seen that afternoon in the streets of Nuernberg, Martha struggled to maintain her previously rosy picture of Germany under the Nazis. She insisted that they should not judge the situation without knowing more about it. She also begged Reynolds not to write an article about it because she maintained it was an unimportant, isolated case—"it did not reveal actually what was going on in Germany, [it] overshadowed the constructive work [the Nazis] were doing." Besides, Martha argued, the presence of the ambassador's children would create an ugly sensation. Her pleas didn't matter, however, as another foreign journalist had been on the scene and immediately had reported the details of story—complete with the revelation that the ambassador's children had been witnesses. When they returned to Berlin Reynolds' editor expressed annoyance that he had not covered the story and the German Foreign Office called the Dodds to apologize for "the incident of isolated brutality which"—they assured Martha—"was rare and would be punished."
Martha soon forgot the unsettling spectacle she had seen in Nuernberg and applied herself to learning German. Her mother, brother and she hired a tutor, a little mustached man who was missing several teeth and insisted on observing only a formal relationship with them. Upon entering the room he would bow from the waist, saying repeatedly "Guten morgen, Excellenz; wie geht es Ihnen." He would blush when the Dodds offered him a chair and at the end of the lesson he'd repeat the formalities. Using the Berlitz method of teaching, he approached his sessions with the Dodds in a most serious manner and exercised considerable patience as his pupils endlessly teased him. They made outrageous statements, yet only twice succeeded in making him laugh. "He must have had the most superhuman control of his facial muscles" Martha mused, "and if he feared one was about to twitch he would gaze intently at the ceiling as if studying some infinitely important message there." They attempted to ask him about the Nazis, but he refused to answer. When they paid him as he left, he would mumble an apology.
Martha's brother soon matriculated at the University of Berlin and her mother became preoccupied with managing the ambassador's residence, so she set about making friends of her own. Her new acquaintances included a young U.S. woman who was studying contemporary German social conditions. The politicized student soon invited Martha to join her in a visit to a labor camp. They and two Germans drove one morning to an Arbeitsdienstlage, a work camp a couple hours' distance from Berlin. Martha sat in the car's rumble seat with a young Foreign Office attaché, while her friend sat in the front with a Propaganda Ministry representative and translated to Martha his description of the labor camp system. A seemingly friendly and genuine fellow, the attaché contradicted the alleged merits of the camps that the Foreign Office representative asserted and with which Martha concurred.
At their destination, a site where the workers drained marshes by hand, Martha and her friend toured the camp's barracks, library, recreation hall and dining room. Martha's friend interviewed as many people as she could and shot many photos. The camp director offered the women a sample of the food—a meal of cold mush and prunes. That afternoon they walked under the hot sun and watched the men digging ditches. "Everything seemed very nice and orderly and there were no military parades and exercises" Martha recounted. She teased her friend "I told you so!"
Her white summer shoes having been soiled and having become tired and bored, Martha asked to return to Berlin. Several miles from the camp on the drive back to the capital, the women came across a group of men doing military exercises—laying flat on their stomachs, then jumping to their feet and sprinting across the field—and taking rifle practice. Martha's friend insisted on stopping to take pictures, cautiously taking Martha aside to say "You see, this is what they really do. The camp we have just been in was forewarned that we were coming, so we saw nothing but the most innocent and constructive activity. We ran on this one accidentally and you can see the difference!" Martha dismissed this, claiming that the woman was "an enemy trying to find the worst things in the nation." The irritated, hostile face of the Foreign Office representative, however, gave Martha considerable pause.
Not all of the Dodd family's encounters with Adolf Hitler centered around matters of political protocol. Forever drafting ways to strengthen German-U.S. relations, the oafish half-German, half-U.S. American Ernst Hanfstaengl briefly entertained the notion that perhaps he could cement the future of relations between the two countries by matchmaking the U.S. ambassador's daughter with the Fuehrer of the German Reich. At first captivated by the silly idea, Martha Dodd soon realized the impossibility of such an arrangement. Reflecting on the comic episode years later, Martha remembered "Hanfstaengl spluttered and ranted grandiosely: 'Hitler needs a woman. Hitler should have an American woman—a lovely woman would change the whole destiny of Europe. Martha, you are the woman!'"
Steadfastly fond of the overgrown, jolly Hanfstaengl, Martha later conceded that "As a matter of fact, though this sounded like inflated horse play as did most of Putzi's schemes," she was convinced ""he knew the violence and danger of Hitler's personality and ambitions, and deceived himself, at least partially, and wished frantically that something could be done about it." Regardless of the infeasibility of such a marriage, Martha humored Hitler's dedicated, albeit flaky press agent.
Because she welcomed a chance to meet "this strange leader of men," Martha willingly submitted to her friend Hanfstaengls plans. "I was quite satisfied" she explained, "by the role so generously passed on to me and rather excited by the opportunity that presented itself... In fact" she owned, "I was still at this time, though increasingly critical of the men around Hitler, their methods, and perhaps the system itself, convinced that Hitler was a glamorous and brilliant personality who must have great power and charm." She admitted, "I looked forward to the meeting Putzi told me he had arranged."
Martha seemed to approach the entire farce, however, with considerable humor. She recalled years after the event that "Since I was appointed to change the history of Europe, I decided to dress in my most demure and intriguing best—which always appeals to the Germans: they want their women to be seen and not heard, and then seen only as appendages of the splendid male they accompany—with a veil and a flower, and a pair of very cold hands."
On the afternoon of their arranged introduction, Martha and Hanfstaengl went to the Hotel Kaiserhof ostensibly to meet the Polish singer Jan Kiepura. The three conversed for some time over tea. Later, Hitler and his entourage of aides, guards and a chauffeur also arrived at the hotel. Martha remembered Hitler "sat down unostentatiously at the table next to us. After a few minutes" she recounted, "Jan Kiepura was taken over to Hitler to talk music to him, and then Putzi left me for a moment, leaned over the Leader's ear, and returned in a great state of nervous agitation. [Hitler] had consented to be introduced to me."
Martha then approached the German dictator and "remained standing as he stood up and took my hand. He kissed it very politely and murmured a few words. I knew very little German...at the time, so I didn't linger long." Martha shook Hitler's hand once more; Hitler again kissed Martha's hand. Then, she quietly rejoined Hanfstaengl at a nearby table and "stayed for some time listening to the conversation of the two music-lovers and receiving curious, embarrassed stares from time to time from the Leader."
Although she finally had met the man who had figured so prominently in her impressions of Nazi Germany, Martha afterwards had mixed reactions. "This first glance" she claimed, "left me with a picture of a weak, soft face, with pouches under the eyes, full lips and very little bony facial structure. The mustache didn't seem as ridiculous as it appeared in pictures—in fact, I scarcely noticed it." Becoming quite dumbstruck while meeting the Fuehrer, Martha acknowledged, "I imagine that is because I was pretty well conditioned to such things by that time. As has often been said," she mused, "Hitler's eyes were startling and unforgettable—they seemed pale blue in color, were intense, unwavering, hypnotic."
As they had with multitudes of other women, Hitler's eyes made a strong, almost sole impression on Martha. She maintained "Certainly his eyes were his only distinctive feature. They could contain fury and fanaticism and cruelty; they could be mystic and tearful and challenging. This particular afternoon" she thought, Hitler seemed "excessively gentle and modest in his manners. Unobtrusive, communicative, informal, he had a certain quiet charm, almost a tenderness of speech and glance."
Martha reported that Hitler "talked soberly to Kiepura and seemed very interested and absorbed in meeting both of us. The curious embarrassment he showed in meeting me, his somewhat apologetic, nervous manner" Martha's father and other diplomats told her, "are always present when he meets the diplomatic corps en masse. This self-consciousness" Martha reasoned rather presumptuously, "has created in him a shyness and distaste for meeting people above him in station or wealth." During their meeting Martha observed that "As time went on, Hitler's face and bearing changed noticeably—he began to look and walk more and more like Mussolini. But this peculiar shy strain of character has to I this day remained."
Accompanying "the ecstatic and towering jitterbug Putzi," Martha left the Hotel Kaiserhof able to "lend only half an ear to his extravagant, senseless talk. I was thinking of the meeting with Hitler" she said. "It was hard to believe that this man was one of the most powerful men in Europe—even at this time, other nations were afraid of him and his growing 'New Germany.' He seemed modest, middle class, rather dull and self-conscious—yet with this strange tenderness and appealing helplessness. Only in the mad burning eyes" she warned, could one see the terrible future of Germany."
That night over dinner at the Dodd residence Martha recounted her experience of meeting the "great leader" to her father. "He, of course, was greatly amused at my impressionableness" Martha protested, "but admitted with indifference that Hitler was not an unattractive man personally. He teased me" she said, "and urged me not to wash my hands for weeks there-after—I would certainly want to retain as long as hygienically possible the benediction of Hitler's kiss." Finally surrendering to the jesting, Martha added "He said I should remember the exact spot and perhaps, if I must wash, could wash carefully around it." Martha admitted "I was a little angry and peeved at his irony, but tried to be a good sport about it."
The U.S. Americans who lived in Nazi Germany experienced myriad levels of social contacts during their stay in the Third Reich: chance encounters, acquaintances, co-workers and fellow students, compatriots, friends or lovers, political figures and others. Because each person differed from all others, each encounter did also. Characteristically, meeting others entailed coming to know on a personal level the social, political and psychological dynamics at work on a popular level in Nazi Germany.
As is true in any land at any time, by experiencing more intimately another, we more intimately experience the self. Whether they met Germans or other foreigners, then, the significant relationships U.S. Americans formed while in Nazi Germany—albeit often under exaggerated social and political conditions—would affect them for the rest of their lives.
Because any given person consists of a rich, infinitely complex collection of values, personal background and experiences, fears, dreams and delusions—as well as individual wisdom—each relationship U.S. Americans visiting Germany made offered them a correlative richness and complexity. Whether with Germans or with other foreigners also living under Hitler's regime, each contact afforded U.S. Americans opportunities to glimpse yet another face of life in the New Germany, as well as broaden their understandings of themselves and the culture from which they hailed.
Only twenty-four years old when she accompanied her newly-appointed ambassadorial family to Germany in 1933, Martha Dodd arrived in the German capital as an energetic and somewhat attractive, although rather naive and inexperienced young woman. Accordingly, she quickly caught the eye of many young German men—regardless of their personal backgrounds or political persuasions. Quite happy to court the favor of would-be suitors, Martha at first mostly overlooked the ideology of the men who pursued her in order to conscionably date them. With time, however, she found that the Fascistic leanings of her beaux made lasting relationships with them quite impossible. These romantic trysts, though, exposed her to facets of life and culture in Nazi Germany generally unseen by the majority of outsiders.
One man Martha vividly remembered after leaving Germany was a "young S.A. boy" who had been a Hitler youth for several years. While she would not disclose his identity, she said he had "a curious name which indicated his Slav origin." She implied that he had come from the Spreewald region, an hour's train ride southeast of Berlin, where many direct descendants of the early Slavonic inhabitants of what would become eastern Germany—"with their own language, customs and costumes, religion and folklore"—still lived.
Martha described the man as having a "beautiful broad, childlike face and no more than an average brain. He was a great Nazi enthusiast and believed that Hitler really meant something with his socialist slogans." The young man hated the Communists "like poison, though at one time he had known and been in sympathetic contact with a few; his hatred" Martha reasoned, "was deliberately encouraged and developed by the propaganda he was subject to. He thought" she explained, "like millions of others, that within the framework of law and order and general capitalist principles, justice could be done to mankind. He believed, with the same millions of others, that the Fatherland had been mortally crippled by the Treaty of the Allied Powers and he put his faith in Hitler to restore Germany and bring prosperity to the simple man."
While the two became bogged in arguments about Jewish influence in German culture, science, vocations and economics, Martha nevertheless continued to see him over an extended time. The sincere young dogmatist would "corroborate these views by sending me innumerable pamphlets of statistics on Jewish monopoly of German life. Arguing passionately, with flaming eyes and dramatic gestures" she said, "he tried to convince me. The house was flooded with the proofs of his arguments and I spent a lot of useless hours listening to violent abuse of Jews and Communists. The only good effect this friendship had in increasing my understanding of Germany" Martha rationalized, "was to challenge me into thinking through clearly my own point of view, which was beginning to develop at that time."
During the course of their time together, Martha and her Slavonic-German friend would take drives into the countryside and long walks on Sundays—"as is the custom with the Germans." They swam and visited cinemas or nightclubs. Martha mused that during their courtship she enjoyed "the gentle courtesy of flowers and notes, and learned more and more about German ways and beliefs." Seeing her friend as the epitome of the "new" young German, she said he "was and remains the norm of German life—the middle bourgeois trying to find some beauty and faith to replace crumbling structures of behavior." Martha added: "I felt the pathos of his clinging to Hitler despite his instinctive distaste for the methods employed."
Young Reichswehr officers Martha met seemed more moderate. "They definitely distrusted the Leader" she recalled, "and didn't like what they considered 'socialism' in the program. However, they were very guarded in their language" she thought, "and indicated that as long as Hitler left their Army alone, as an autonomous unit in the German nation, and gave them the chance, economically and otherwise, to develop and become more efficient, they would be content." Like young people throughout the world, these aspiring careerists "wanted their own freedom, their own leaders, their nonpolitical nature. Many of them were royalists" Martha claimed, "many of them were purely and simply soldiers, happy in their work and the economic security it brought them; but they wanted to remain the unique and aristocratic clique they have always been in Germany."
Despite their heavily indoctrinated militarism, Martha thought the aspiring Reichswehr officers she met seemed "extremely pleasant, handsome, courteous, and uninteresting—they were infinitely less symptomatic of the new Germany than their confreres in the SA, and the SS. At almost any time, under almost any system" she maintained, "they would have had the same attitudes."
Martha found that generally "there was quite a lack of caution in the expression of views at divergence with Hitler's. Or this may have been caused" she allowed, "by an attempt to sound out the new Ambassador's family. In any case" she reported, "I met several young men in the Foreign Office who pretended to be critical of Nazi Germany." Although others might consider it inappropriate for the U.S. ambassador's daughter openly to welcome such attention, Martha boasted that "Flowers and attentions came from many, arguments and statement of cases along with them...but always" she maintaned, "despite appeals they made to their listener's reason, and their own mental reservations, they would very subtly point out that, after all, Hitler is doing thus and so, eliminating unemployment, giving the Germans a sense of national pride again. These were attitudes most difficult to combat" she said, "particularly if one had an instinctive feeling of sympathy for the German people and a sense of indignation at their treatment after the war."
Another young German man also turned Martha's head. She liked him, but after their contact she learned that while he ostensibly served in the Foreign Service, at the time when they met he actually had been "studying the methods of propaganda and learning discipline in the Secret Police department" for later service in the Nazi hierarchy. "As always" Martha cited, "he was handsome, blond, innocent, and enthusiastic, with a slightly more devious and trained mind than the S.A. man."
Martha also became intimate with a third man—who later married into a wealthy family with connections to the Nazi echelon. He had joined the SS, which Martha dismissed as "a fact which meant little to me until I got to know [him]." At first thinking the man to be quite handsome—"there seemed to be an influx of blond Aryan wholesome-looking talent"—upon reflection she saw an underlying ugliness about him: "He had a broad, sly, brutal face, and I found him a man of easily acquainted mannerisms." As an example Martha charged "though he knew very little about America, he had acquired the slang and accent to an almost perfect degree. [He had] a superficial and probing intellect, if one could call it that, and a curiously brash, and at the same time conciliatory, pattern of speech and behavior." Still, the captivated ambassador's daughter consented to meet with him.
"He was a man" Martha later recounted, "whom I could not and did not trust, with a capacity for ugly fanaticism and polished trickery. Ambitious, brazen, and impertinent, he was one of the first disillusions I had in German official life." Perhaps revealing more about her own temperament than his, she commented that "By the very fact that he would support such a certain point of view, a sensitive person would almost instinctively take the opposite, no matter on what subject." After several dates on which the man eagerly inquired about the U.S. ambassador's views on political matters, Martha began to suspect the man of being a Propaganda Ministry agent.
Soon dumping the Propaganda Ministry's man and having broken her relationships with other German men she had met, Martha really only got to know a courtier intimately when—while attending one in the series of perpetual diplomatic teas, dinners or receptions—she met Rolf Diels, who later would become the provincial governor of the Rhineland. Although he had served with the socialistic Prussian State Secretary in the days of the Weimarer Republic, during the time that he dated Martha, the opportunistic Diels served as the Chief of the Secret Police under Goering. Martha held that "Though his career was mildly social-democratic he fell easy prey, through his ambitious and unscrupulous nature, to the Nazis."
Claiming she did not know about his past until ""a year or two later," Martha praised Diels because "while he was in his job, [he] was always attempting to appease American anger and indignation. He cooperated almost invariably with our Consulate and Embassy. He released several Americans and" she rationalized, "with some small risk of incurring Nazi enmity, tried in several instances to conform to or put through our demands for our own citizens, those wrongfully assaulted, arrested or imprisoned."
Martha explained: "[Diels] was sensitive, of course, to American public opinion and felt more concern about it than some of the high officials at that time. This was not done out of the kindness of his heart" she conceded, "but rather from his unusual intelligence and political opportunism. He definitely wanted the Embassy to be friendly" she thought, "not only to Nazism but to him. I am also equally convinced" Martha continued, "that he was, and is, no more of a Nazi than many of the others who give lip-service to it for their various personal or political reasons."
Martha learned later from former concentration inmates that while Diels was Chief of the Secret Police "at least twelve people a day" were murdered. Overseeing Berlin's Columbia House, "one of the most ghastly prisons in Germany," Diels earned an intimidating reputation among both Germans and foreigners. "When he walked into a room" Martha related, "or rather, crept on cat's feet, he created a nervousness and tension that no other man possibly could, even when people did not know his identity." Describing him as "tall and slender, with jet-black luxuriant hair," she said "he had the most sinister, scar-torn face I have ever seen. His mouth was twisted from early sword-wounds and his cheeks had livid lines of scar tissue. [Diels'] eyes were black, cruel and penetrating" Martha remembered, although he had come from "the soft and gay Rhine country."
Curiously, only after spending much time with the cynical, menacing Diels did Martha conclude that "He took a vicious joy in his Mephistophelean manners and always wanted to create a hush by his melodramatic entrance." Visiting the Dodd house "many times, often on purely formal occasions," Diels gave Martha "the lasting impression of being the only man who got by our efficient butler without being announced. The parties would be going full-swing, people talking, drinking, dancing, or eating. Then suddenly" she marveled, "late in the evening (he would always come late), you would almost feel a chill in the room, and Diels would appear at your elbow in all his dark and horrible glamour!" Struck by Diels' eerie behavior, Martha's friends confirmed "the sinister quality of every meeting with him."
A victim of his own cynicism, Diels seemed to Martha to trust no one. Although a member of the SS, he purported that others there hated him and that he found his support instead among SA members. Diels spent much time describing for Martha Nazi intrigues and "inter-party struggles and hatreds." While he swore loyalty to SS head Hermann Goering, in reality "no one liked or trusted him. No matter how fine and innocent a character might originally be" Martha thought, "a job of the nature of his would invariably and inevitably corrode the character. Towards the end of his career in this post" she said, "he became more neurotic and full of obsessions than anyone I knew in Germany—even those whom he persecuted."
Martha admitted that during the time when they dated, often going dancing and driving, she was "intrigued and fascinated by this human monster of sensitive face and cruel, broken beauty." She told of once visiting Diels in his office and seeing dictaphones covering his desk. Quite matter-of-factly, he informed Martha that "spying was done not only by the Secret Police Department but by every department... Goebbels spied on Goering and Goering on Goebbels, both on the Secret Police staff, and the Secret Police section on both of them." Discovering firsthand the hateful paranoia that permeated the Nazi regime, a disillusioned Martha soberly realized the true nature of National Socialism. "There began to appear before my romantic eyes—yet not so romantic after all, since these are authenticated facts—a vast and complicated network of espionage, terror, sadism and hate, from which no one, official or private, could escape."
Having left a Middle America that existed in relative innocence and civility, in Nazi Germany Martha witnessed the inhumanity one person is capable of inflicting upon another. As an indication of the cynical nature of deception and political coercion, she testified "I began to realize that the diplomatic corps itself was not immune, that all diplomats were analyzed in files that kept growing, their activities and points of view were watched and reported. [Diels] convinced me through indirection or otherwise, that our Embassy office and residence were wired for dictaphones, either in the walls or in the telephone. I soon learned not to say a thing over the telephone which I did not want recorded somewhere in the innumerable places for such things."
Discovering that a surrealistic nightmare of technologically advanced authoritarianism had germinated and taken root in formerly civilized Germany, Martha became almost inescapably intertwined with the lives of Nazi officials like Diels. Formerly unsophisticated and carefree, she found herself immersed in a world of shadowy figures who had come to rule over the most intimate details of German life and who eventually would ensure the almost total destruction of what had once been a noble nation. Citing examples of the growing intrigue in which she found herself directly involved, she said "Murderous stories began to circulate, to which I lent more and more of an ear as I became wiser to the ways and methods of dictatorship. Cars had driven up in the middle of the night, SS men had jumped out and in a moment had come down from a house or an apartment, with a man or woman who was never seen again. Such cases actually occurred thousands of times" Martha admitted, "but they began to take on definite reality, and when friends of friends of mine were the victims, I was sobered and silenced."
Even though as the U.S. ambassador's daughter Martha rationally fell under a guarantee of personal safety upon which most Germans and many other foreigners could not securely rely, she began to suffer severe emotional and psychological distresses because of her intimate knowledge of the reality behind the carefully cultivated facade of National Socialism. Martha later recounted that "during the year I knew Diels fairly well, I myself got into a nervous state that almost bordered on the hysterical. If I had been with people who had been brave or reckless enough to talk in opposition to Hitler, I spent sleepless nights wondering if a dictaphone or a telephone had registered the conversation, or if men had followed and overheard. I had terrible nightmares" she remembered.
"My room was on the second floor of the Embassy" Martha continued, "a large, many-windowed room looking out on the gravel drive to the street. The wall could easily have been scaled. During the autumn and early winter nights, I imagined I heard steps and then long silences, shots, or whispered conversation; I thought I saw moving shadows behind the immense stone pillars of the entrance, all, of course, my imaginative translation of a tire bursting (or perhaps actually a distant shot), a flurry of dead leaves, the wind rushing over the loose gravel, moonlight through swaying branches. I often felt such terror" she confessed, "that occasionally I would wake up my mother and ask her to come and sleep in my room."
Internally tormented by the unexpected consequences of her familiarity with what had once seemed innocent infatuations, Martha feared "all the time that, by some subtle probing, Diels would draw out information from me about my German friends, which would cause their death. His mind was brilliant, complex, and dangerously accurate" she admitted. "He was a perfect man for his job, even though he looked the part a bit too obviously."
With considerable discomfort, Martha recounted her genuinely sad tale: "As I came to know more and more about the technique of terror and Fascism, to be more aware of what was going on, receive confidences of official Germans and diplomats, I desperately regretted that my memory could not be destroyed. I did not trust myself in the mental hands of an arch-conspirator, as well I might not! Of course" she noted, "I saw less of him in the following three years, but when I did go out with him, even after I had developed a certain cynicism and self-confidence, he always put the fear of the devil in me and without fail caused these nervous spells to recur."
As she became more sensitive to the dynamics of German Fascism, Martha became "sure that part of this atmosphere created by Diels was deliberately manufactured. He wanted" she said, "for the satisfaction of his sense of personal power, to frighten even the diplomats. If he had any other purpose in mind, for instance, to spy on us or our friends, or to give an impression of the effectiveness of the Nazi methods, he failed miserably." At the same time, however, "Diels had established in our minds and souls certain incontrovertible facts and attitudes toward Nazi dictatorship that were to lead us to a complete and uncompromising analysis."
Aware of Diels' role in the staged Reichstag fire trial and how he eventually became undone by his own darkness, Martha remarked "it is definitely true, in view of the circumstances that later developed, that Diels himself felt he was constantly facing the muzzle of a gun." As an example of how his own techniques turned against and eventually consumed him, she noted "Whenever he wanted to talk openly or be himself naturally, he would always drive out into the country and talk while we walked in the woods, or had a coffee at some obscure restaurant. It was" Martha mused, "the old story of the Frankenstein that turned on its creator and destroyed him."
As a benevolence of fate, not all the Germans Martha encountered were cut from such damaged cloth. At a large diplomatic tea she met Prince Louis Ferdinand Hohenzollern. "Dr. Ferdinand"—as he had been known outside of Germany—had just returned from the United States, where he had worked for four years as "a simple laborer" for the Ford company and "had absorbed to an amazing degree the culture and manners of America." Maintaining that the young prince had loved the U.S. "passionately," Martha learned that his grandfather the Kaiser had recalled him to Germany in the event that Hitler would fulfill his promise to restore the former German monarchy.
"He seemed strangely uncomfortable and out of place" Martha thought, "not because of any consciousness of his distinguished birth, but rather from his democratic and natural instincts." Although he later learned "to be quite a diplomat, suave, noncommittal, gracious," it seemed to Martha that "at first he was more American than the Americans—which made him vastly unpopular with the Nazis. He was" she reflected, "generous, frank almost to the point of bluntness, affectionate and informal. He drank, danced, thought and acted like many Americans I have known."
Noting that Louis' mother was Russian, Martha described him as "tall, slim, beautifully built [and with] the darkness and temperament inherited from his mother." She continued: "His face was interesting, though not handsome in the conventional sense, sharply cut, with the long thin nose of his family, the loose mobile mouth, sometimes narrowed to sternness and at other times gentle and full, bright and expressive brown eyes, beautiful hands, fine high forehead and thick dark hair. He looked" Martha observed, "more like an ordinary person's idea of an artist, erratic and sensitive, than an heir-apparent to the German throne."
Soon after they met, Martha discovered that music constituted Louis' "real passion." Comparing his talent with that of another of her favorite "Americanized" Germans, Martha said "He played the piano very well, not with the roistering, rambunctious technique of his friend Hanfstaengl and, of course, completely without the latter's vulgarity." Instead, it seemed to her that Louis "touched the keys softly, deliberately, almost as if the reverence he felt for the instrument kept him from abusing it."
Though she liked Louis dearly, Martha thought that while "he never said so, I felt that he was a personality completely out of touch with Nazi Germany, a misfit in the society he was forced to accept and live in. In fact" she estimated, "his whole personality was lost in Germany, would have been lost under any rigid system." Seeing Louis as a "strange combination of Latin and Slavic virtues and flaws," Martha observed that the manic prince would vacillate between "moods of the deepest, almost suicidal depression, to extreme gaiety and exuberance at a moment's notice. Romantic and realistic at the same time, full of joy, and morose" she declared, "he was one of the most interesting men I was to know in Germany and one of my dearest friends" she made in the four and a half years she lived in the Third Reich.
Naturally attracted to each other by their shared cultural preferences, the U.S. ambassador's socialite daughter and the unhappy prince spent much time together. The two often attended concerts—yet invariably he seemed "oblivious of his surroundings and transported by music." They also took drives in his Ford—"of which he was very proud"—lent each other books and discussed art, philosophy and life in the United States. Over time they "felt closer to each other than we did with our other friends—in fact" Martha emphasized, "the feeling of being exiles brought us together."
As they grew closer, however, Martha came to more clearly see how the afflicted Louis' ties to U.S. culture colored his experiences in the New Germany: "His temperament, education, experience, and tastes created a nature whose elements were in constant conflict and will always be, no matter what happens to him or where he goes. He would have been a comparatively happy man" Martha deemed, "in a free and democratic society."
Despite the mismatch of the man and his native culture, Martha enjoyed her time with the would-be monarch. She fondly remembered, for instance, that "Louis loved American cigarettes so much that I gave him many cartons which we received very cheaply without tax or duty and he would take great pride in pulling them casually out of his pocket and offering them to friends."
The playboy prince-in-waiting definitely cared more about animated socializing and spending time with friends than securing his ascent to a restored throne. He often invited Martha and her brother to his family's country estate near Potsdam for weekends and holidays. There Martha met Louis' parents, the Crown Prince and Princess of Germany. Upon later realizing that when she met the royal couple she had unconsciously committed numerous faux pas, Martha simply dismissed her mistakes, reasoning that her "instincts against [aristocratic protocol] were purely American. I had not met any kings, or kings-to-be, in my life" she explained, "and if I had, I suppose I would have gasped at them like most Americans and done nothing more articulate." Noting that the Dodd family members were the only people in the diplomatic corps or among even Nazi Germans who did not "curtsey to her Imperial Highness," Martha exhibited a purely democratic ethic: "I would bow to no one unless I felt that person to be a great human being, no matter what his rank or name."
The royal parents soon realized the depth of their son's friendship with the upstart U.S. ambassador's daughter and discretely approached Martha in hopes of countering what to them seemed to be the brash, individualistic values their oldest son inconveniently had adopted in the United States. Meeting "several times" for lunch with the Crown Prince at his palace on Berlin's chic Unter den Linden, Martha resisted the desperate man's pleas to moderate Louis' style: "He wanted me to try to curb some of Louis' obvious Americanisms" she griped; "He felt his son could never be popular among Nazi Germans if he continued his natural blunt, frank, American ways. For some reason" she imagined, "I suppose because I was one of his son's best friends, he thought I could have some influence."
Martha soon "discovered, in these private lunches, that [the Crown Prince] didn't really approve of his son, in fact, felt some personal hostility to him." Since childhood the sensitive prince had disdained the military parades and training, as well as the "fanfare of Royal pretensions" which characterized aristocratic life. Instead of becoming disenchanted with Louis, as the Crown Prince sat complaining to Martha about what he perceived to be the failings of his unorthodox, rebellious son, she began to see the father—not the son—as "a rather pathetic spectacle of a man—frustrated, bitter, and jealous."
In addition to her friendship with the disgraced Hohenzollern prince, Martha also valued her acquaintance with Ernst Rowohlt—according to her "one of the most picturesque and active publishers German literary life has ever had." Before the rise of Hitler, Rowohlt had published "most of the important and talented writers of Germany—many of them radicals, some Communists, others liberals and pacifists." Herself an aspiring writer as well as a former literary editor and book reviewer, Martha found Rowohlt to be "a delightful man, of giant blond Aryan stature and complexion." She accredited him with having "a positively cherubic face, with innocent blue eyes, round, ruddy, plump cheeks and an irrepressible and sputtering humor."
When Martha first arrived in Berlin Rowohlt was learning English "and spoke very badly with a strong accent, but so amusingly and with such obvious delight in his mistakes and in his attempts to right them, that his bubbling, stumbling, lisping jargon was a positive joy to listen to." She described him as "a tremendous drinker and also a very serious and vital man [who] loved life and freedom passionately[; he] was tremendously proud of his past record, and spoke bluntly and honestly about any subject that arose. Of course, such outspokenness immediately placed him at great odds with the Nazis, who had confiscated his firm and forced him into "a more or less minor role in the publishing house," leaving the formerly jolly Rowohlt "a broken and tragic figure."
Martha assessed the former executive as the type of man who "aroused and held devotion and unswerving loyalty of his subordinates and who could attract anyone by his tremendous energy and intelligence. In his house in the early days" she cited, "one could find the last remnants of independent literary thought collectively gathered in Berlin. Now" she lamented, "it is a different story."
While she admired Rowohlt, who despite being coerced into subservience to the Nazis retained his integrity, Martha greatly disliked other literary figures who apparently willingly had been co-opted by Hitlerian deals with the devil. At one party—"a very drunken affair, but as always, extremely amusing and full of gaiety"—she met Hans Heinz Ewers, a former writer of "degenerate, cheap, lurid sex stories." Martha held that when Hitler had ascended into power, Ewers "smelled the way things were going and jumped hurriedly on the bandwagon."
Saying that Ewers was a man "wined and dined by official German circles, and even by diplomatic people," Martha proclaimed "I am proud to say he never came into our house." She described him as "an old man with a monocle, trying desperately to appear younger than his years [and] one of the most disgusting types I have ever met. When he took my hand and kissed it, I shuddered at his touch. His hands were scaly, splotched with red dry sores, hard, repulsive." She confessed "I wanted to wash my hands as quickly as possible after his handclasp. It seemed like contact with a toad's skin" she said, "or with a particularly repugnant reptile just losing its skin. His face, too, had the strange blotched and bloated complexion of a drunkard and a degenerate."
At the same time, however, Martha conceded that Ewers' manners were "soft, ingratiating, formally polite, but" she qualified, "with salacious suggestiveness." She later remembered "I was profoundly indignant when he told me he was married to an American. I went into the other room as soon as possible to escape this loathsome creature and his eulogy of Nazism."
Finding that while some former independent publishers and writers had coalesced—even if unwillingly—to the German dictatorship, Martha discovered that some German writers had refused to comply with the Nazis. A few days after meeting the repulsive Ewers, some friends of Martha's offered to introduce her to Hans Fallada, the author of Little Man, What Now?, which had created "a stir" in the United States shortly before Martha had left for Berlin. Portraying him as "a minor but competent writer," Martha later recounted her meeting with Fallada, who lived with his wife and two young children on a farm in Mecklenburg, several hours' drive from Berlin.
Making the outing on a beautiful spring day, as Martha recalled the trip to Mecklenburg she sketched a bucolic scene with "the young delicate green soft and blooming on the hills, in the trees and gardens. The chestnut trees all along the roads" she waxed, "were glowing and luminous with their strange, upthrust flowers, the acacias' wine-sweet fragrance in the air." The lushness of the day seemed to reflect an idyllic setting that Fallada had created for himself and his family after leaving the oppressive air of the "new" Berlin, going into what came to be called the "inner migration" of that part of Germany's intelligentsia which had not sought external refuge. Soon, though, the metaphorical precariousness of life under the Nazis for any self-styled artist unwilling to compromise her or his craft also bore forth, as about halfway to Mecklenburg "there was a violent spring storm. The rain fell heavily in long, strong strokes, the wind rushed through the trees. Little sharp lines of lightning lit up the sky, and the scene was wild and violent with color, intense electric green and violet, lavender and gray."
Martha recounted that she and her friends were riding in an open roadster and "driving very fast, enjoying the rain in our faces, not wanting to put the top up. In a few minutes it was warm and moist again, the earth steaming and fragrant, the sun soft and bright on the flowering hills and beautiful lakes." Maintaining that Mecklenburg seemed to be "one of the loveliest districts in North Germany," Martha celebrated what she described as "a gentleness to the landscape, in the rolling green hills and bright lakes, a lyricism and poetry in the softness and contour of the land and water."
Regardless of the pleasant, moving esthetics of the pastoral German countryside, however, artists in voluntary exile such as Fallada lived an isolated life, far removed from both urban complexities and amenities. Finally finding the village nearest the Falladas and passing over bad roads, Martha and her companions arrived "at the modest cottage set by the lake and surrounded by a few acres of cultivated land." There the "retired" young author appeared with his "buxom, simple wife" to greet their visitors. Immediately the couple offered Martha and the others a tour of the farm and garden. Along their walk she noted that Fallada was "a stockily built man with blondish hair and charming, genial features; his wife plump, blonde, serene, with a peasant face." Also, the couple had two children—"a young, bright-faced boy of four and an infant in arms."
Following a "wholesome country dinner" the Falladas and their guests took another walk, this time to the top of the highest hill. Martha saw that "The panorama was splendid and there was a quiet haze of heat spread over the earth, the lakes and the hills appeared to be resting softly, and life seemed peaceful." The little party took "a lot of pictures, as is the German custom wherever one goes," then returned to the Falladas' cottage, where they examined domestic and foreign editions of Hans' books and discussed his upcoming literary works. When they left later that day, the visitors promised "to come back soon," yet never did.
Perhaps more upon her return to the German capital than while at their home, Martha's visit to the Fallada farm caused her to more closely consider the uneasy tension she imagined most artists felt living under the suffocatingly heavy hand of the Nazis. She said later that the Falladas' life "seemed to be built around their family and their farm. [Fallada] was isolated from life and happy in his isolation. There was some discussion" Martha recalled, "and though I got the impression that he was not and could not be a Nazi—what artist is?—I felt a certain resignation in his attitude."
Martha speculated that "This withdrawal from life was Hans Fallada's tragic solution to the problems that might have been troubling his peace. It was a temptation to which he had completely succumbed" she concluded. "And the impression of defeatism he gave us was saddening."
Martha later learned that Fallada had "got into trouble on one of his rare visits to Berlin" and was beaten by Storm Troopers to the point of being hospitalized for a couple weeks. "But" she noted rather unsympathetically, "he seems to have settled his life in the simple, trivial pattern we saw on his farm, is still writing not very good books, and is for the moment lost to a deeper struggle with life."
The "deeper struggle" to which Martha alluded but seemed to not fully understand would become a recurrent theme in the life of the pretentious young woman who herself vainly aspired to become an "artist." During the four and a half years she lived in Berlin, Martha made—in her words—several "feeble attempts" to throw literary parties. Once, during a visit by an U.S. American publisher, she asked "a dear friend...a highly sensitive and educated German married to an American in Berlin, who had known the earlier Berlin literary life and still had contacts with what remained, to arrange the party." Martha's friend invited "about forty people, writers, poets, publishers and magazine editors."
Afterwards Martha remembered the fiasco as "a dull and, at the same time, tense afternoon. One poet" she reported, "a year later, was put into a concentration camp. At the time [of the party]" she noticed, "he was sitting in the back of the library with a group of three or four people around him. They were talking quietly and cautiously, a sort of still living center in the party. He was a man of about forty" she said, "with a strong, suffering face and deep soft voice. His wife had been arrested several months before, but I got no feeling of fear about him, rather a subdued strength turned inward, a tested courage of spirit and character, an endurance of heroic proportions."
Failing to transcend her own egotistical narrowness, Martha failed to successfully connect with the artists her friend had collected for the party. Betraying her usual judgmentalism, she remarked "The rest of the guests were standing around drinking heavily and devouring plates of food. Probably many of them" she construed, "were poor and actually ill-fed, and the others were nervous and anxious to conceal it. Many of them hovered around the American publisher" she observed, "in a pathetic eagerness to know what was happening in America. They revealed the avidity of the mentally starved. A few Jewish writers and critics looked uncomfortable and self-conscious. One of them has since emigrated to the United States, but" she critically commented, "his complex of persecution was so deeply rooted by that time that I am afraid his whole future has been warped."
Martha continued "In any case, this was the party at which I had hoped to hear amusing conversation, some exchange of stimulating views, at least conversation on a higher plane than one is accustomed to in diplomatic society. But" she complained disappointedly, "this party was so full of frustration and misery; of the strain laid upon the last scraps of minds and opinions of any freedom, by the ferreting-out conducted by the Secret Police; of tension, broken spirits, doomed courage or tragic and hated cowardice, that I vowed never to have such a group again in my house." Such was the plight, Martha found, of artistry and free thought in Nazi Germany.
As generally is true with all foreigners who live for an extended amount of time in a culture not their own, the U.S. Americans who lived in Nazi Germany found it important to create for themselves agreeable home environments. Because of the exaggerated times in which they lived in Germany, their need for a secure, comfortable home probably seemed even greater than it perhaps would have otherwise. Living as they were in the Nazi empire, the subjects in this chapter each struggled to establish the sort of home they would find most to their liking. Of course, what each desired in her or his personal residence reflected that person's own background. Interestingly, however, each of those discussed found German decorating tastes gaudily overdone; characteristically, these U.S. Americans strove more for simplicity, convenience and comfort over pure ostentation or idle clutter.
In addition to learning more about German material culture by venturing into various Germans' homes, U.S. Americans looking for lodgings in the Third Reich encountered diverse, interesting characters they otherwise likely would have missed: portly police officers, dignified old aristocrats, controlling Hausfrauen and sympathetic bureaucrats. Through their search for housing, the subjects discovered much more than mere accommodations.
As soon as the Dodds had first arrived in Berlin in the summer of 1933, mother Mattie and Martha began combing the city for a place to live which was furnished suitably for an ambassadorial family. The market groaned with magnificent houses available at relatively low rents. These had been the houses of wealthy Jews who had either fled the country or were about to depart. The grand houses—with their expensive furniture, elegant tapestries and spacious accommodations complete with servants' quarters—seemed antiquated and overdone to the Dodds' adopted austere Midwestern tastes. Eventually, however, they settled into a lovely house on the Tiergartenstrasse with a large garden in back and only a brisk morning walk's distance from the U.S. embassy.
The Tiergartenstrasse residence seemed unbelievably luxurious to the Dodds. It included a large reception hall, an oval-shaped ballroom, a well-stocked library, two additional reception rooms, a dining room that seated twenty-five guests and Garderobes—check rooms in the entrance hall. The ballroom contained "a wonderful floor and woodwork" and the library had "red damask walls and hundreds of priceless books, bric-a-brac, a fireplace and Gothic and Early Renaissance woodwork." It would be the library, the Dodds found, where they "lived the most and which" Martha admitted, "I liked the best [with its] countless books, and...[a certain area which was] cozy, warm, and friendly, with a glowing fire."
While the Dodds found the idea of living in such a palatial house exciting, its lavish decor imposed upon their Puritanical utilitarianism, causing them esthetic as well as emotional discomfort. Martha complained that "the furniture was too heavy and the bric-a-brac too cluttering, but" she conceded, " no German villa on this scale was any different. This was the taste of the people and we found it invariably the same."
Although the Dodds initially felt uneasy with the house's opulence, at least the new ambassador's residence included several unusual, highly-attractive features which made the Tiergartenstrasse house more acceptable to them then many of the others available. Martha found the kitchen of the house—which she thought was twice the size of an average New York apartment—particularly pleasing. Also, citing that the house boasted a "charming bright sunroom and stone terraces that led in a winding stone stairway down into the perfectly planned garden," Martha noted that her father "was especially delighted since [the house] was in such a quiet location, with a garden and trees."
"As is the case also in most German homes" Martha thought, "the bedrooms and sitting-rooms on the third floor were pretty grim affairs." Although the top-floor quarters included a "nice" sitting room, it also had "a strange, gaudy bedroom with a bath, the size of a reception-room, entirely done in gold and colored mosaics, the bath tub on a sort of dais. For weeks" Martha mused, "I roared with laughter whenever I saw the bathroom and occasionally as a lark would take my friends up to see it, when my father was away." Left to arrange those rooms as they pleased, however, the Dodds made at least part of the house feel comfortable according to them.
Finally settling in and hanging an American eagle on the front gate, Martha reported that the Dodd family then simply "tried to settle down to normal diplomatic and family life."
Through the use of a highly developed Propaganda Ministry and the merciless Gestapo, the Nazis came to dominate every aspect of life and culture in the Third Reich. Completely censuring not only newspapers, magazines, telephones and radio, but also the sciences, education at all levels, textbooks, all art, advertising, cinema and the mail, the German government kept close watch over the ideas and activities of its own people, as well as of foreigners living inside the country. Tending the interests of a government based on dogma, intrigue and political manipulation, Berlin bureaucrats came to control even the reproductive rights and capacities of all Germans; not even the privacy of the bedroom remained sacred. And, it systematically murdered those it deemed unfit for life—the physically or mentally handicapped, Gypsies, homosexuals and other "unwanted" elements of German society.
After Hitler arose to power civil liberties vanished and everyone—from Nazi Party officials to ordinary villagers—lived with the terrorizing fear of perhaps, even if inadvertently, violating one of the Fuehrer's endless decrees, the rigid Nazi doctrines or the arbitrary wishes of individuals of rank. The possible consequences of such transgressions included being sent to a labor or concentration camp—or being promptly executed. The Hitler regime thus epitomized authoritarian rule.
It did not take Martha Dodd long to realize that the underlying nature of life in the "New Germany" did not completely reflect the wholesome, admirable impression it often initially made with many visitors. At first—like the rest of her family—Martha thought that U.S. Secret Service reports "vastly exaggerated" rumors of German espionage and intrigue. They considered that of their servants "there was not one before whom we could not speak openly... But as time when on we had more or less direct indications that information was getting out about our private lives that could only be revealed from the home itself. Letters were brazenly opened at the border" she complained, "with the excuse of money control. Some of the letters with a clear Embassy stamp on them and sealed officially were opened and delayed." When Ambassador Dodd protested these violations of individual privacy and diplomatic immunity, "the German Foreign Office promised to punish the offender and said it was purely accidental."
The Dodds soon realized the foolishness of including revelations "of any confidential nature without sending them out through the pouch." Unfortunately, however, even hand-carried mail seemed subject to inspection. Usually mail from the U.S. embassy traveled to the States on German boats "because of the necessity of speed," but because Ambassador Dodd suspected the mail pouches of being tampered with, he "strongly advised" sending diplomatic mail on more "reliable boats"; his recommendation, however, seemed to have never been accepted by State Department officials in Washington.
Martha reported two incidents as examples of the poor security afforded written diplomatic communiqués. She heard from a "young man in a foreign Embassy" a story of two young pouch couriers, one a German and the other a foreigner. "When they were at a station together waiting for a train" she recounted incredulously, "the German suggested that the foreigner get his dinner while he watched both the mails!" The second experience involved a German woman who asked Martha's mother how she could get a private letter to her daughter in the United States. When the ambassador's wife suggested she try sending it in the pouch of an embassy, the woman "laughed and declined, declaring she wanted 'protection'!"
Quartered near the Tiergarten in a residence that surely was under surveillance, the Dodds began going to the "beautiful, ancient, and heavily-wooded park in the heart of Berlin" in order to find some precious privacy. Commenting that the Tiergarten "was used not only for fashionable horse-back riders, dress-paraders, Sunday walkers, and the exercising of dogs," Martha said that it became a place "for private and important talks between diplomats and officials who did not want to speak within the privacy of their own homes or offices." Her father took walks in the famous park with other ambassadors—until he realized that "even in this lovely and romantic setting" Nazi informants followed them.
Martha considered it a matter of fact that the French and Soviet embassies were "closely watched even more than the American and English" embassies. She learned that spies manned observation posts opposite those diplomatic "palaces as well as within them to report on visitors, the number of their cars and the length of their visits, among infinitely more important matters." Numerous times after leaving the U.S. ambassadorial residence Martha noticed being followed "on foot and by car" and had interesting experiences leading her "shadow" into "all sorts of tedious and ridiculous spots."
Sometimes, however, Martha discovered that some of the effects of being closely scrutinized were not very amusing. "In the last year of our residence there" she recalled, "I had a friend quite high among the Nazis. He was secretly not at all in sympathy with their extreme politics. One night" she told, "when he was calling on me he left his car on the street outside our Embassy residence instead of driving in. When he left" she explained, "he found his car had been seriously damaged. I thought of course that it had been injured in the process of attempted theft. He was confident that it was a warning to him from the Secret Police that his visits to the American Embassy—which was by this time quite unpopular among Nazi Germans—were unwelcome."
While she was able to see the genuine danger behind being constantly watched, Martha strove also to find some redeeming humor in it. "Most of the time" she admitted, "my brother and I were serious and tense enough about this situation. But occasionally our long-lost sense of humor would break through the strain—and we both would talk with friends (of course not Germans) in a complicated and menacing-sounding language." She claimed "We knew that most of what anyone said was recorded laboriously on discs. We hoped our conversations would make good 'listening' and cause a little more effort. Very undignified procedure" she confessed, "but it helped relieve the terrific pressure."
A friend of Martha's involved with the Nazi Party called once and used an alias. Having previously arranged to use "a complicated language for meeting at a certain time and place without giving it away over the telephone," they agreed to meet later, beyond the notice of Nazi spies.
Even though the Dodds were convinced that the ambassador's residence had been thoroughly tapped, Martha noted that "we did occasionally talk in the rooms where there was no telephone." One friend of hers, however, refused to talk intimately even while on the sun porch "which was made entirely of tiles and glass and would have been a difficult job of wiring." It seemed a safe assumption, however, that the home of U.S. ambassador was carefully watched, for as Martha explained "after my father's long and consistent stand against dictatorship, [of course it] would be under careful surveillance."
While the possibility of physical danger seemed likely enough to consider seriously, the Dodds found that the psychological effects of totalitarianism caused them more distress than the fear of bodily harm. Martha wrote after leaving Berlin "There is no way on earth one can describe in the coldness of words on paper what this espionage can do to the human being. Though we knew we enjoyed the privilege of extra-territoriality, that the Germans could never do us any serious harm no matter what we said, the family's conferences and freedom of speech and action were so circumscribed we lost even the faintest resemblance to a normal American family."
The suspicious fear life under the Nazi regime instilled in the Dodds became pervasive and insidious. Martha remembered "Whenever we wanted to talk we had to look around corners and behind doors, watch for the telephone and speak in whispers." As an example of the extent of the caution one had to exercise in such an atmosphere, she continued "A woman friend of mine—a lovely German woman who detested the terror of Nazi Germany—would occasionally mysteriously lead me into our bathroom—also a most difficult place to wire!—and whisper almost inaudibly some new event she had heard about. Such was the life" Martha summed, "an American family was subjected to in four years under a dictatorship."
Martha realized that her life would never be the same after living inside the Third Reich, for the psychological legacy of "fear and terror can penetrate into the consciousness, and unconsciousness for that matter, of the most innocent and even well-guarded people. Our fear" she explained, "was not only for ourselves—because whether rationally or not, we even feared our own safety—but for the people we entertained and for the sources of news we were acquainted with." Martha said that most of her acquaintances and "the opinions we heard expressed were antagonistic only to certain measures of Hitler. When the people were completely inimical to Hitler" she claimed, "they were still inimical in words and were never organized in any sort of opposition moment. So one can well imagine, if this atmosphere existed in the home of the representative of one of the freest countries in the world, what agony and tragedy existed in the home of a liberty-loving German."
Still, however, Martha's recognition of the effects of surveillance and the continual threat of danger remained mostly intellectual; it would be the emotional fallout from her stay in Nazi Germany which would linger in her mind largely unrecognized for years. After she returned to the United States she acknowledged that "now, months and months away from Germany, the habits of my mind and life are so fixed that I often unconsciously watch for servants and speak in low tones whenever I express a frank opinion. The attitudes of suspicion and caution are so deeply ingrained, the human nervous system so highly keyed" she thought, "it will take years to forget that racking experience."
While Martha most strongly felt the presence of Nazi totalitarianism in her own life, she in no way remained oblivious to it in the lives of others. Aware of the "world famous case of Pastor Niemoeller," for example, who was hounded by the Nazi regime for his dissident social sentiments*, she felt concerned about the future of religious freedom in Germany. [Niemoeller became famous after the fall of the Third Reich for a much-quoted statement attributed to him: "In Germany, the Nazis came for the Communists, and I didn't speak up because I wasn't a Communist. Then they came for the Jews, and I didn't speak up because I wasn't a Jew. Then they came for the trade unionists, and I didn't speak up because I wasn't a trade unionist. Then they came for the Catholics, and I didn't speak up because I was a Protestant. Then they came for me, and by that time there was no one left to speak for me."] Having observed the treatment of women in the Third Reich since she first arrived in Berlin, Martha also said that while Jewish, Communist and dissident women were being physically brutalized, women in general were being "emotionally, morally, and intellectually liquidated" by the Nazis.
Draconian government censorship and the strict enforcement of Nazi ideology also compromised German culture, leading Martha to claim "nothing [is] left of German art and science, so absolute is the dictatorship and so devastating the terror and enforcement of it." In addition, she reported that "theatre and the cinema, relieved of all brilliant Jewish talent, is a trivial thing compared to its former glory. Naturally" Martha held, "all the actors and actresses must be acceptable to the Nazis, must be Aryan, and must conform to Nazi ideals." Noting that entertainers must perform only officially-approved stage and screen plays, she assessed "For the most part the theatre season in Berlin is so dull few people do more than laugh at the appearance of a new play."
Concerning films, Martha thought "the situation is even worse—if that is possible. German comedy is at best a pathetically heavy-handed slapstick affair. A sense of humor is not a noted German trait" she held, "and, under Nazism, when the nominal humor of Germans do have must be so restricted, it is especially conspicuous by its absence." At the same time "The movies of a more serious nature are so dull and so devoted to the extolling of Nazi and national virtues that it is a bore to have to see one."
Martha thought that since German films seemed of "lamentable quality" the Germans would be wise to import "good foreign pictures." That was not easy, however, as many of the leading stars she considered admirable such as Charlie Chaplin or the Marx brothers were Jewish and banned. She noted that Germans had once been "in love" with the U.S. American actress Sylvia Sidney: "her pictures were on Kurfuerstendamm and her photos in the papers." A "bright young man" found out she was Jewish, though, and ever since the government banned films with Sylvia Sidney from German cinemas. Also, if foreign films seemed "pacifistic or too flippant or in other ways failed to meet the standards of pure Aryan elevation they were not shown. Yet whenever a foreign picture does come to town" Martha chided, "it usually outlasts the local productions by weeks and often months."
Lamenting "great German conductors and composers who were evicted from Germany or who left of their own accord," Martha conceded that at least "one can still attend fine concerts and hear good music." Given the official Nazi view of Blacks and their "degenerate" culture, however, "jazz of any type is loathed and feared by Hitler. It represents to him the International Marxist-Jewish conspiracy. It is not based solely upon the Germanic rhythms" she explained, "as he demands of all music, but rather on rhythms that are deep in every human being." Such a disapproving view also forbad swing music or other derivatives of jazz. Martha maintained that "Only a few night clubs attempt to play jazz and they are very bad. Hitler allows two or three such places to stay open in Berlin for the sake of the foreigners and diplomats living in and visiting the German capital—foreigners who pay heavily into Nazi coffers. The permission is reluctantly given" she noted, "and may cease at any moment." She reiterated, "One never hears jazz among the true Germanic crowds."
Besides music, visual arts also came under the suffocating scrutiny of Nazi control. "Of course" Martha remarked, "in the realm of painting, sculpture, and architecture the same conditions of sterility exist. Hitler has announced both privately and publicly that he will have none of the 'new-fangled notions' in art." Citing the dreary 1937 official art show in the Bavarian capital as an indication of art under the Nazis, she summarized that the "general impression of the exhibit was one of colored photography. Among the black list" she reported, "were many extraordinary and creative talents." If the Fuehrer's dour tastes in painting were not bad enough, Martha added "Hitler's antagonism to modem architecture is as intense as that to modem painting... Whenever a new building is constructed" she observed, "its architect and his plans have to pass the rigid censorship of the Nazis."
As did many others at the time, Martha understood the connection between the German dictator's biography and his ideology: "It is obvious that his ideals of art stem from his own frustrated ambitions as a painter and an architect. It is equally obvious" she continued, "that the enforcement of his ideals in this particular line would be as strict and ruthless as other enforcements, especially because he believes he knows this field better than others and because he was formerly denied the right to realize his 'genius.' Now he can run rampant with no one to stop him, designate the type of art to produced in Germany, and even design the buildings himself."
As it did painting and architecture, Hitler's preference for stoic, stern artistic statements also colored his appreciation of sculpture. Martha explained that the German dictator favored the Scandinavian sculptor Josef Thorak because he had "a tremendous, heavy, and heroic style. He is liked by Hitler" she said, "because no matter what sort of face he does he will instill it with a brute strength, a power and a vitality striking to the eye—whether it is there in the face or not." Comparing it with Mussolini's, Thorak once told Martha that he would find sculpting Hitler's bust "a difficult task indeed" because of its "lack of sculptural line" and "the labor necessary to make it appear as compellingly powerful as Hitler wanted it to be."
A fitting statement about German art under the Nazis, Martha recalled seeing Thorak's work at the Berlin Exhibit in Paris one summer. She recounted "In front of the building was a group of men and women, which took away your breath with its sheer strength and brute force. The heads" she said, "were the size of enlarged peas and the bodies huge hulking blobs of stone formalized into a synthetic Teutonic beauty." A "dear friend" of Ernst Hanfstaengl, Thorak seemed to Martha to be "a little man somewhat over five feet, with a homely, attractive, and twisted face." Despite his deceptively innocuous appearance, however, she concluded that he had been "lashed to the wheel of Nazi art which crushed under its weight all of the delicate, subtle, and genius-torn creations of art and labeled them neurotic, Jewish, Marxist, or sub-human."
The Nazi view of the world propagated through bastardized "art" only reflected one aspect of party ideological indoctrination spilled upon Germany by radical Fascism. Besides the media and art, education provided Hitler and his followers to corrupt what had been a reputable German tradition of higher learning and the pursuit of knowledge. Referring to the Nazi destruction and reformation of German education, Martha remarked tersely "The state of German universities is well known throughout the world." Claiming that "the three best historians in Germany" had either retired or were dismissed by the time her brother studied at the university in Berlin, she explained that since the rise of Hitler there had been "a continuous stream of intellectual emigrants to America and England." Sarcastically, she stated "It is exciting to know that we have so profited by the Nazi dictatorship but it is tragic for German youth."
Martha described the condition of scholarship under the Nazi regime. "There is no university in Germany now that can honorably bear that name" she maintained. "They are all elevated institutions of Nazi propaganda. The number of students has decreased" she reported, "and especially of women students—who can be at most ten per cent of the matriculated student body—almost to the extent of satisfying Hitler, who believes, perhaps because of his own lack of intellectually ability or training, that young people have had too much education in the past." History under German Fascism had to be interpreted from a purely "Nazi racial and historical point of view," for example, as did all other studies as well. In such a climate genuine academic research and dissemination had become virtually impossible.
Nazi decree ordered that university rectors be either Nazis party members or particularly sympathetic to National Socialism. Professors had to swear oaths of loyalty to Hitler's regime; Martha reported that "When they come into the classroom and when they leave, they must Heil Hitler. They cannot say or write anything derogatory to Hitler or to the past of Germany as it has been molded to Hitler's taste." Martha added "Of course, contemporary history—that from the World War to the present—must be treated with infinite care. Stresemann and the Weimarer Republic, all the statesmen and officials of the Democratic era" she explained, "are either ignored or calumniated disgracefully. There can be no real research in subjects that impinge upon any of the Nazi theories" she complained, "and these theories exist in and dominate every field of intellectual life, from anthropology to English literature." Noting that under such conditions thousands of professors—including many Jews—had fled the country or been removed, Martha admitted that "innumerable courageous men must hold their tongues forever or answer with their freedom and safety."
Not only the faculty, but the student body of German universities were deeply effected by Nazi manipulation and coercion. No longer were students encouraged to attend university, ostensibly because "there are too many other careers open for young men and women who accept the Nazi tenets of faith." Those who avoided joining the army or working for the Nazi party and insisted on a university education had to train first in a labor camp for a year. "Here" Martha described, "they are taught Nazi propaganda and are forced to live as peasants for the period of time they are there. This accords with the Nazi theory of Blut und Boden, the sacredness of Germanic blood and soil, which all good Germans" she assessed, "must experience."
Following service in a labor camp, would-be students could attend university only in restricted numbers and "must not forget to Heil Hitler and live and think according to Nazi standards. Hitler's plan" Martha warned, "is that if his education scheme works, from the cradle up, it will not matter what sort of material the student gets his hands on in a university. By that time he will be so conditioned to Nazi theories and ways of life that he will not be influenced by anything else."
The completeness of Nazi indoctrination seemed obvious, leading Martha to deduce that "Brawn, not brain, is the ultimate end of university training for both men and women" in the New Germany. "If a student reveals himself to be proficient at sports and military training" she explained, "if he can recite the catechism of Nazi faith, if he shows himself to be a disciplined soldier and potential party member, it makes little difference to the Nazis whether he has acquired learning or not. In fact" Martha noted, "the intellectual is so sneered at, heaped with such searing contempt and hate, it is better for the student not to reveal intellectual qualities or show curiosity and objectivity of the sort respected and encouraged by [U.S. American] universities."
So complete was Nazi indoctrination and social control that foreign visitors marveled—albeit usually with fright—at the incredible influence of National Socialism on daily German life. Martha concluded that "in art, in science, in the professions, in general intellectual and cultural life, the Nazis have made inroads of destruction which may take generations to repair. For the glory of the past, for the incomparable gifts Germany made to the world" she proclaimed, "there has been substituted a propaganda and technique of superstition, a perfect organization of sterility, false legends, and sadism upon which every country in the world...looks with horror."
The place of Jews in German society had been precarious long before the rise of National Socialism. For centuries they had fallen into and out of favor both with the rulers and the people of what eventually would become the country known to the English-speaking world as "Germany." Under the Nazi regime, however, Jews slipped to the absolute bottom of the social order; with each passing year after Hitler's inauguration in 1933, they suffered increasingly severe discrimination and persecution. While U.S. Americans and other foreigners inside the Third Reich personally witnessed some of the tragic treatment cast upon Jews by the Nazis, only after German defeat in 1945 would the world fully know the incredible horrors of the holocaust committed against them.
Martha Dodd did not respond to the reality of Jewish life in the Third Reich with the emotional detachment of her ambassador father. Instead, she seemed willing to empathize with a people who had come to so completely embody for Adolf Hitler all that he hated and feared. Like others who tried to understand the deeper motivations of the German dictator, she attempted to see the connections between the National Socialist leader's disturbed childhood and the fanatical, hateful adult he had become in postwar Vienna and Munich. She also realized that anti-Semitism had been a frequent phenomena in German history. "Hitler found in his own anti-Semitism" she explained, "a weapon made to order for his seizure of power. There has always been anti-Semitism in Germany, particularly drawn upon when a scapegoat is needed. After the War" she continued, "Hitler [and the Nazis] stirred up bitterness, wherever they could find it, against the Jews." She concluded "The Jew was used as the tool."
While understanding the politics of anti-Semitism in general and its rageful reappearance under the Nazis in specific greatly affected the Jews, experiencing it personally was another matter. After her return to the United States Martha recounted "I had ample opportunity to experience the immediate impact of innumerable personal tragedies. I knew sons and daughters, fathers and mothers who broke their hearts with grief and despair" she said. "I knew a mother who told her daughter to become sterilized rather than bring another victim of Nazi fury into the world. I knew a Jewish woman of middle age" Martha continued, "in the trying years of physical change, who was pronounced insane and whose son was forcibly sterilized to prevent procreation of a perfectly healthy line."
Martha could provide dozens of accounts of specific hardships endured by Jews at the hands at the Nazis, yet a few stood out as representative of the terror of the Jewish holocaust. Having made acquaintance with the Jewish family of "one of the most famous statesmen Germany ever produced," Martha told how her friends had been "socially ostracized, the bust of the dead man removed from every public building and destroyed, the children (half Jewish only) and widow accorded the same harrowing economic and social treatment given to 'untouchables'." One son—assuming the future for Jews in Germany to be grim—emigrated to the United States, while another son—"trained as a lawyer and ready for diplomatic service, extra-ordinarily talented and productive as a musician and composer"—settled for a "position of insignificance" in a German bank. Continuing her sad testimony, Martha related "I have seen the doors of German homes close to them. I have seen them all wince with pain at social snubs, not to mention more fundamental restrictions upon their personal lives and property." She protested that "Even Embassies of foreign countries have taken them off their invitation list rather than incur the irritation of Nazis."
Time spent not only with Jewish friends, but also with Jewish beaux led Martha to see firsthand the humiliating abuse of Jews in Nazi Germany. "When I have gone out at night with young Jewish men" she claimed, "I have felt the sneers of the crowds, the mutterings and under-the-breath insults. At night clubs and restaurants" she recalled, "we have been given the worst tables, the most abominable service and sometimes been refused admission." Remarking on the hypocrisy of the times, she added "Some former so-called Christian friends through fear avoid their Jewish friends, cross the street rather than speak or chat with them."
A defiant young woman given to associating with whom she pleased, Martha said "The son and daughter of one of Germany's wealthiest industrialists were dear friends of mine but they had few others except among Jews. However" she conceded, "many non-Jewish people in Germany have maintained a heroic stand against Nazi prejudice, defended publicly and privately their Jewish friends and their own humanitarian principles. At diplomatic parties to which we always invited our friends" she cited, "no matter what their race, creed or minority, we would notice how the Nazi Germans refused to mingle with them even on foreign soil and in a mixed gathering."
Recalling the incident in Nuernberg she had witnessed soon after arriving in Germany in which a young, shaven woman stumbled through the streets, shoved and jeered at by other gentiles for having intimately associated with a Jew, Martha noted that when she returned to Berlin from that trip "I was told that Jews were forbidden to bathe in Wannsee, a popular lake near Berlin. I was shocked and disgusted and could scarcely believe that it was a government edict—which it was. For two years" she added, "my favorite lake was Gross Glienicke, a beautiful, serene and quiet spot among hills and trees near Berlin. In 1935" she exclaimed, "I saw the inhuman black notice posted on the edge of the bathing beach: Jews Not Admitted." Martha said she never again returned to Gross Glienicke.
Perhaps the most significant impact witnessing the early phases of what would become a Nazi campaign to exterminate the Jews had on Martha was the transformation it spurred in her political and social consciousness. Although well educated and from a relatively liberal family, Martha had reached young adulthood quite naive and reactionary. In the Third Reich, however, her former sophomoric ideas and perceptions gave way to a more inclusive and complex worldview. Describing later how her experiences affected her, Martha explained "when I first came to Germany I was no more and no less anti-Semitic than most gentiles of my background and education. I didn't like many of what were described to me as their people's characteristics (I fell into that common category of people who said, 'Some of my best friends are Jews, but...'), I thought they were 'pushy' and over-intellectual. I had the average gentile's envy of their brilliance and accomplishment" she admitted, "which was developed into a vague prejudice."
Martha continued "In Germany for the first year I was subjected to the most violent and transparent barrage of propaganda I have ever faced—this propaganda was an attempt to make me anti-Semitic as well as anti-socialist, anti-democratic, and anti-intellectual, to force me into emotional attitudes of hate and anger."
She had resisted being easily swayed, however, and the campaign to indoctrinate her only strengthened her opposition to the aims and tactics of the Nazis. "I was asked to consider the Jewish people both subversive and sub-human" she recalled. "As factual and thoughtful literature began to seep in, against the Nazis' will, and replace the reams of Nazi propaganda, I began to see the German Jew in his historical role, in his good as well as his bad light."
Not questioning that Jews in Germany had obtained "prominent places" in finance, the professions and art, Martha countered the argument that "they dominated these fields to the exclusion of the Aryans" as "ridiculous and untruthful. The Jewish population produced an incredible number of talented and productive men in proportion to their population" she claimed. "And one can only consider it creditable to their people."
Her ethnic and cultural background largely determined Martha's values and perspectives. She maintained "Being an American, I never had been trained in the prejudice that only the privileged, those of the moneyed or familied upper crust, should get to the top. So it did not seem abnormal to me that there were brilliant scientists, professors, artists, lawyers, and doctors who were Jewish. After all" she observed, "the best man wins, or should win according to American mythology, and I saw no valid reason for excluding talent and constructive work because of religion or minority groups."