interview with Edith Lichtenstein Morgan, former refugee
"Out of Hitler's Reach" Video |
In-Depth Look at Scattergood
Exhibit Info | Exhibit Narratives | Exhibit Views | see the Exhibit
Quad City Times, Devenport, IA 8 April 2009 | Iowa City Press-Citizen 10 April 2009
Scattergood Hostel, 1939-43
Open the pages of any serious newspaper and a dismaying array of disheartening headlines jump out, somehow confirming the worst of popular suspicions about the "true" nature of human beings. It too often seems as if there are scarcely any redeeming stories of positive, inspiring acts of kindness or selflessness on a large scale, anywhere in the world.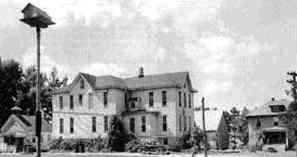 This sobering state of affairs is exactly why the legacy of the Scattergood Hostel for European Refugees (1939-43) provides us world-weary moderns with refreshing reason for hope. Unfortunately, few people in the United States, and virtually no Europeans, know about the unique events that took place on the Iowa prairie some half-century ago.
In August 1938 a youth conference of Iowa Yearly Meeting [IYM] (Conservative) produced a letter proposing that local Quakers cooperate with the American Friends Service Committee [AFSC] in bringing refugees away from the crowded Eastern seaboard's immigration hubs and integrating them into the Midwest. The hopeful young Quakers suggested co-sponsoring an AFSC summer work camp consisting of people from around the United States and recent arrivals from Europe. They thought such a project could be based at the Scattergood School, an IYM-owned boarding school that had ceased operations in 1931 due to the devastating Depression. Beyond this, their ideas remained largely unarticulated, yet they were keenly committed to finding some means of action. AFSC secretary Leslie Schaffer attended the conference and reported: "In considering the social and economic problems of the times, [the Young Friends] became very enthusiastic about doing something to help."
Their unexpected offer appeared at the AFSC headquarters at a precipitous moment, for the organization's executive secretary, Clarence Pickett, was just returning from a fact-finding tour of Nazi Germany. Then, only two days after one of Pickett's assistants responded to their offer, Hitler unleashed the brutal Kristallnacht pogrom of November 9-10. The immediacy of the threat posed to German Jewry--as well as other non-Jewish victims of the Brown Shirts' regime--only accelerated action undertaken by Quakers in the United States to provide assistance. The original proposal of a short-term summer work camp involving some 10 to 15 German or Austrian refugees was commandeered and converted into the impetus for a bigger, long-term refugee program intended for 30 or more displaced persons from numerous Nazi-occupied countries.
On January 7-8, 1939, AFSC representatives attended a joint meeting of conservative and programmed-worship Quakers in West Branch, Iowa, a village two miles northwest of the school site. The conference proved significant not only because it gave birth to a structure that would facilitate the opening of the former school as a refugee hostel, but because it brought together two subsets of Quakers who had had little to do with each other since their division over theological differences some five decades earlier.
Response was immediate and almost exclusively positive. By the end of the month both branches of Iowa Friends had committed themselves to the project, with the conservatives agreeing to "rent" the property to the AFSC for $1 per year, as well as to refurbish the physical plant, and programmed Friends promising to furnish the interiors of the buildings. Local clergy, the village's mayor and postmaster, a doctor and others gave active encouragement. Jewish organizations or individuals in the state capital, Des Moines, and in nearby cities such as Cedar Rapids and Iowa City eagerly offered financial support. The idea of helping in tangible ways those in need in faraway lands struck a resounding chord in many Midwestern hearts. With funds and many hands provided to effect much work, the first refugees were able to arrive a mere 12 weeks later and occupy former schoolrooms that had been empty for eight years.
Initially, the AFSC selected five men--two Germans, two Austrians, and a Czech--to continue the extensive renovation thought necessary before women and families could live comfortably at Scattergood. Four of the five, plus a young Quaker, John Kaltenbach, drove in a borrowed station wagon from Pennsylvania to Iowa, only to be greeted by four car loads of reporters and photographers--"So many press men that we couldn't find our friends at first," complained Kaltenbach, the chaperone of the group and acting director for 15 months.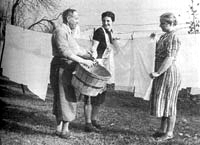 The first morning at the site found all of the men busy at repair work, while weekends found floods of volunteer work crews, reporters, visiting local and out-of-state Quakers, and curiosity seekers washing across the shores of the young community's common life. Because the hostel's organizers intended from the start that it should be as self-supporting as possible, as time allowed an extensive garden took shape on part of the 12 acres that Scattergood occupied. The hostel eventually acquired an assortment of hens and sheep, as well as ponies for the children to ride, dogs, cats, and pigs.
At the same time the number of staff grew from a handful to up to 15. While refugees would stay at the hostel for three to four months on average, staff members tended to stay for either short stints, particularly in the summer, or for a year or more. The staff consisted mostly of young, Quaker volunteers. All were under 30 except for later-director Martha Balderston, less then half a dozen short-term teachers, and Walter and Sara Stanley--the middle aged Quaker couple who had been caretakers of the former school and stayed through the entirety of the Hostel's existence. Only the core staff were paid, and that at sub-existence levels, with some of the "volunteers" even paying for their food and lodging!
By July of 1939 Scattergood Hostel seemed settled enough for the first family to arrive. By August the targeted population of 30 "guest" (the term used in preference to the more loaded "refugees") and 10 or so staff was mostly in place. At that point, daily life at Scattergood Hostel began to reflect more closely the AFSC's goal of providing a place where refugees "could go for a few weeks or months to recover from their effects of their recent experiences, regain their confidence , improve their English, learn to drive a car, and, if needed be, start retaining themselves for some new line of work before seeking a permanent place in American society." True to Quaker aversion to organized hierarchies, from the beginning attempts were made to run the project as consensually as possible, with continual input from those being helped. This unorthodox style of management had the desired effect of helping the uprooted Europeans feel as if the once again deserved human respect and had some power over their own destinies.
Over the course of the hostel's four year existence, 186 individuals ranging in age from infancy to over 60 found a haven. Except for the 23 or so children who passed through Scattergood's doors, most of whom attended the West Branch school, all of the guest took turns between tutorials to make the hostel run on a minimal budget and with considerable efficiency. Even light garden work, however, was foreign territory for most of these urbane folks. As was true also for men in the United States, the European men were unaccustomed to lifting a dish towel or folding laundry; many of the women had enjoyed the help of paid servants in the old country.
The loss of a bourgeois lifestyle and social status proved a challenge for both men and women. Staff members reported that especially men suffered from this de facto demotion, as many of them had been wealthy, well-known judges, doctors, or other professionals in Europe, and their credentials were not automatically transferable nor their
advanced ages an incentive for quick hiring.
Scattergood Hostel provided job placement services and in some cases modest professional retraining, yet practical considerations were not always the most pressing ones. Many of the guest had suffered emotional trauma before reaching the safe shores of the United States. Several were known to pace the upstairs hallway of the main building late at night, most eagerly scoured the newspapers or radio bulletins for news from "home" and a few were seen "wolfing their food" at mealtimes or even taking lard from the pantry after bedtime, having too intimately made acquaintance with hunger in one Nazi Germany's proliferating concentration camps. Numerous guests lost relatives to the gas chambers and many had their own tales of narrow escape to recount.
Still, the journal entries, letters to friends and family, in-class reports, and other documents left behind attest to the generally positive, relaxed atmosphere of Scattergood Hostel. Most of the guests were extraordinarily grateful--not to mention relieved--to have a quiet refuge where they might reassemble fragments of their road-worn lives. Testimonials written at the time of the hostel's closing in March of 1943 and afterwards contain vivid, heartfelt words of thanks to Scattergood Hostel for offering them, as one grateful man wrote, a "place of peace in a world of war, a haven amidst a world of hatred."
photos courtesy of American Friends Service Committee; article courtesy of Friends Journal
to order TRACES' book | Out of Hitler's Reach | Exhibit | Flyer to order | Exhibit Catalog |
Teaching Materials:
Elementary | Junior High | Senior High | Related Documents
Quaker Refugee Projects:
Agricultural Projects | Boarding Schools | Rest Homes | Hostels
| Home |